June 27, 2014
Innovation of the Month: High-Friction Surface Treatments
Before-and-after studies show that adding high-friction surface treatments at high-crash locations can be effective safety countermeasures. These pavement surfacing treatments provide exceptional skid resistance not typically provided by conventional pavement.
In Kentucky, for example, a high-friction surface treatment was installed at a U.S. 25 intersection in Knox County to address rear-end crashes. During the three years before the installation, six wet-weather and 27 dry-weather crashes occurred, or 11 crashes a year. During the 1.3 years after the installation, that dropped to two wet-weather and five-dry-weather crashes, or 5.38 a year.
In California, the I-105 Sepulveda Boulevard on-ramp, a primary egress point from the Los Angeles airport, was often closed during rain to prevent wet-pavement crashes. Since high-friction surface treatment was applied to 1,300 feet of the ramp, friction values have increased from 32 to 60 and the ramp has not been closed because of rain.
The High-Friction Roads website has case studies on Federal Highway Administration demonstration projects in several states.
SPMTs Accelerate Connecticut Bridge Project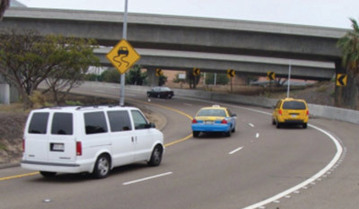 The Connecticut Department of Transportation is using accelerated bridge construction to minimize the impact on travelers as it rehabilitates the I-84 bridges over Marion Avenue in Southington. The agency plans to use self-propelled modular transporters to move the new bridge superstructures, constructed near the existing bridges, into place during a weekend road closure. An SPMT is a multi-axle, computer-controlled vehicle that can carry large structures and position them precisely. The I-84 SPMT move is scheduled for the weekend of June 27 with a July 11 rain date.
Maine Signs STIC Charter
The second meeting of Maine's State Transportation Innovation Council featured the signing of the organization's new charter. Seven transportation stakeholder organizations were represented at the June 19 meeting, led by Maine Transportation Commissioner David Bernhardt and FHWA Maine Division Administrator Todd Jorgensen. The discussion focused on FHWA's STIC Incentive program, which offers funds to carry out projects that standardize innovative practices. Maine plans to submit one or two applications for STIC funding in August.
New York Wins Innovation Award
The New York State Department of Transportation won a Best Use of Innovation Award in the northeast regional America's Transportation Awards competition for its project to replace two I-84 bridges over Dingle Ridge Road in Putnam County. The agency used slide-in bridge construction to move the new structures into place over two weekends, saving time and minimizing traffic disruption. The project received a Highways for LIFE grant from FHWA to support its innovation use.
Now Online: e-Innovator
Innovator—FHWA's source for innovation news—is now an all-electronic newsletter with enhanced content and a new look. The May/June issue features the new Accelerated Innovation Deployment Demonstration program, which provides $30 million in incentive funding to offset the risk of trying innovations. Subscribe today to receive email or text message alerts on future issues.