July 2, 2015
Innovation of the Month: Improving DOT and Railroad Coordination
The Every Day Counts innovation of the month for July is improving department of transportation and railroad coordination.
Each year, highway agencies build hundreds of projects that cross over or under or run parallel to railroad rights-of-way, requiring coordination between the organizations involved. Through EDC, the Federal Highway Administration is encouraging new approaches to collaboration between DOTs and railroads to improve communication, expedite project delivery and reduce costs.
The EDC effort uses a model agreement library, tools and training developed under the second Strategic Highway Research Program R16 project. The tools and agreements-developed by DOTs, railroads and the Federal Railroad Administration-allow agencies and railroads to identify sources of conflict and develop memorandums of understanding for project and program needs.
To learn more, view Improving DOT and Railroad Coordination, an EDC presentation on techniques and lessons learned.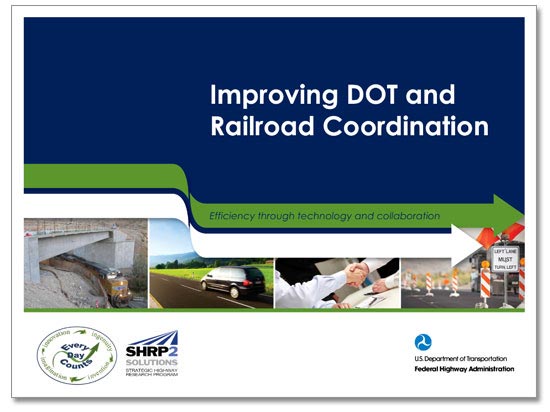 Navajo Nation Bridge Project Uses GRS-IBS
FHWA organized a site visit to the Dennehotso Bridge replacement, a geosynthetic reinforced soil-integrated bridge system project Federal Lands Highway is administering for the Navajo Department of Transportation in Arizona. The visit enabled Arizona Department of Transportation and Apache County staff to get a firsthand look at the innovative technique crews are using on the project, which involves placing seven precast concrete girders on GRS abutments. The Arizona DOT and Apache County are considering GRS-IBS use on future projects.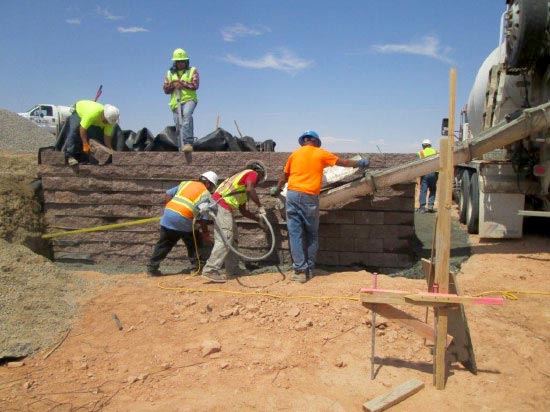 GRS-IBS construction on Arizona bridge project
Tennessee Hosts Traffic Incident Management Scan Tour
Illinois Department of Transportation, Illinois State Police and FHWA staff toured Tennessee's Traffic Management Center, Highway Patrol Training Academy and Traffic Incident Management Training Facility. The June visit enabled the Illinois group to learn about best practices Tennessee first responders use to clear traffic incidents safely and quickly. The group also participated in a meeting of the Tennessee Traffic Incident Management Statewide Working Group and attended part of a traffic incident management responder train-the-trainer workshop.
View EDC Exchange on Data-Driven Safety Analysis
See the EDC Exchange on data-driven safety analysis webcast for information on using predictive and systemic analysis approaches to safety management. Nearly 600 people at 120 locations across the country participated in the June 25 exchange, part of a series of EDC Exchanges that combine presentations on innovations with in-person discussions involving representatives of local and tribal agencies. Learn how data-driven safety analysis can help agencies better target safety investments and reduce crashes.
See the FHWA R&T Story
The new FHWA 2015 R&T Story video offers a snapshot of how FHWA research plays an essential role in improving the nation's transportation safety, infrastructure and operations. The print version highlights how highway research and technology initiatives are making a difference in addressing key transportation challenges, including advancing safety toward zero deaths, improving the mobility of people and goods, and preserving the nation's infrastructure.