July 25, 2014
Innovation of the Month: Significant Impacts of Every Day Counts
By encouraging innovation use, the Every Day Count initiative has helped many transportation departments try new technologies that protect the environment and make them standard practices in their states.
War-mix asphalt - produced and placed on the road at lower temperatures than traditional hot-mix asphalt reduces fuel use and paving costs while extending the paving season and improving compaction.
Forty-one state transportation departments and all Federal Lands Highway divisions have specifications or contractual language allowing WMA.
From 2009 to 2013, WMA jumped from 5 to 30 percent of the total asphalt produced. It's expected to top 75 percent in the next few years.
WMA saved more than $600 million in fuel costs between 2009 and 2013.
Adaptive signal control technology adjusts the timing of traffic lights to accommodate changing traffic patterns and ease congestion.
More than 100 agencies now use adaptive signal control technology, compared to about 12 before the Federal Highway Administration promoted it through Every Day Counts.
Since Topeka, Kansas, installed the technology on part of its 21st Street corridor in 2011, it has saved an estimated 123,000 gallons of gasoline and 191,000 pounds of CO2 a year. Crashes dropped about 30 percent during the system's first year of operation.
Idaho Interchange Wins Award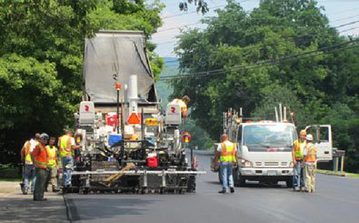 The Chubbuck Road interchange reconstruction, Idaho's first diverging diamond interchange design, is a western regional winner of an America's Transportation Award. The award in the Under Budget, Small Project category was announced at the Western Association of State Highway and Transportation Officials 2014 conference. The interchange at the crossing of I-84 and U.S. 91 in southeast Idaho was finished in nine months. Its construction cost of $10.8 million was $2.1 million under the programmed amount.
Illinois Explores 3-D Modeling
Illinois Department of Transportation and FHWA staff reviewed three-dimensional modeling technology use on a Knox County highway reconstruction project. At the July 15 demonstration, participants met with staff of Knox County, the contractor and the design consultant. They heard presentations on the development of the 3-D model and how it helped the contractor bid on the project and learned how 3-D software was being used to build the project. The Illinois DOT is planning a scanning tour in Iowa to explore 3-D technology further. The Knox County project received an FHWA Highways for LIFE grant for its innovation use.
Oregon Event Features Design-to-Paver Technology
Intelligent compaction and 3-D engineered models for construction were featured at an Oregon Department of Transportation design-to-paver demonstration workshop. Participants saw design of a 3-D road section and operation of various types of equipment using a 3-D model with automated machine guidance control. They also observed collection of construction quality and quantity information through intelligent compaction, unmanned aircraft systems, electronic signatures and other camera recording systems. Richard Hewitt, Florida Department of Transportation state construction pavement engineer, said the workshop provided "the knowledge base I needed to really start moving forward in construction with civil integrated management and automated machine guidance in Florida."
Washington Signs STIC Charter
The Washington State Transportation Innovation Council was formalized with the July 1 signing of a charter. The group's mission is to facilitate rapid deployment of innovative technologies, strategies and techniques among transportation program delivery professionals in the state. Members include representatives of the Washington State Department of Transportation, Local Technical Assistance Program, Tribal Technical Assistance Program, Washington State Association of County Engineers, Association of Washington Cities and FHWA. The group is evaluating ideas to use FHWA STIC Incentive Program funding.