August 13, 2015
Innovation of the Month: Smarter Work Zones
Work zones account for 24 percent of nonrecurring traffic delays and 10 percent of all congestion. Work zone-related injuries occur every 14 minutes and fatalities every 15 hours.
In efforts to reduce these related delays and fatalities, the Federal Highway Administration is promoting two smarter work zone strategies through Every Day Counts–project coordination and technology application–that offer several benefits.
Minimize travel delays. Project coordination among agencies enables them to reduce the number or duration of work zones and resulting traffic impacts, such as congestion and crashes. Technology applications can reduce delays by managing traffic in real time.
Enhance motorist and worker safety. Combining queue and speed management technologies can raise driver awareness of work zones ahead, provide delay and routing information, and increase compliance with speed limits.
Maintain access to residences and businesses. Communication and coordination among agencies helps lessen the impact of work zones and manage their effects on local access.
The EDC Smarter Work Zones Innovation Deployment Team offers technical assistance and training, including workshops and peer exchanges. For assistance, contact Paul Pisano and Jawad Paracha.
Washington, D.C., Bridge Opens Early
The District Department of Transportation announced the early opening of the 16th Street Bridge over Military Road in Washington, D.C. The replacement of the 57-year-old rigid-frame bridge was completed using ultra-high performance concrete connections and accelerated bridge construction technologies to reduce the impact of the project on road users and residents. As a result, the project was completed six months ahead of schedule.
FHWA Promotes Smarter Work Zones
FHWA is getting the word out on smarter work zones. FHWA staff presented a session on smarter work zones and intelligent transportation systems in Phoenix, Arizona, on August 6. The session followed a course for Arizona and Maricopa County Department of Transportation staff on developing and implementing transportation management plans. FHWA staff discussed smarter work zones and advancements in road weather management at the National Rural ITS conference in Salt Lake City, Utah, on August 10 and 11.
Illinois Builds First Diverging Diamond Interchange
An August 12 ribbon-cutting ceremony in Marion celebrated the opening of the first diverging diamond interchange in Illinois. The city of Marion and Illinois Department of Transportation coordinated with FHWA to use the innovative design to build the interchange at Hill Avenue and I-57. The $15.5 million project, designed to improve safety and operations, was built with state and local funds.
Minnesota Applies STIC Incentive to Smarter Work Zones
The Minnesota Department of Transportation received State Transportation Innovation Council Incentive funds for a smarter work zones project. The agency plans to develop procedures for a downstream speed notification system in urban freeway work zones. The system will use a series of changeable message signs that display information designed to reduce traffic speeds as motorists approach stopped or slowed traffic. The goal is to decrease rear-end crashes in work zones.
Montana Receives AID Demonstration Award
The Montana Department of Transportation will invest in a systems engineering analysis process using an Accelerated Innovation Deployment Demonstration award. The agency will apply the process on several corridors in Montana's seven largest urban areas to make the most informed and effective improvements to the state's signal control technology. The award serves as an incentive to promote planning and system definition before technology improvements are selected and implemented.
States Win Regional America's Transportation Awards
The Milton-Madison bridge-slide project won the Kentucky Transportation Cabinet and Indiana Department of Transportation a Best Use of Innovation award in this year's southeastern regional contest in the America's Transportation Awards competition. By sliding the new bridge onto refurbished piers, crews were able to reduce the bridge closure by 11 months.
In the western regional contest, the New Mexico Department of Transportation won an innovation award for its Paseo del Norte/I-25 reconstruction. The project's design-build process cut construction time by nine months and created a seamless transition between the overpass and road. The Montana Department of Transportation won for its Deep Creek Canyon project, which used accelerated bridge construction techniques to reduce construction time and minimize traffic delays.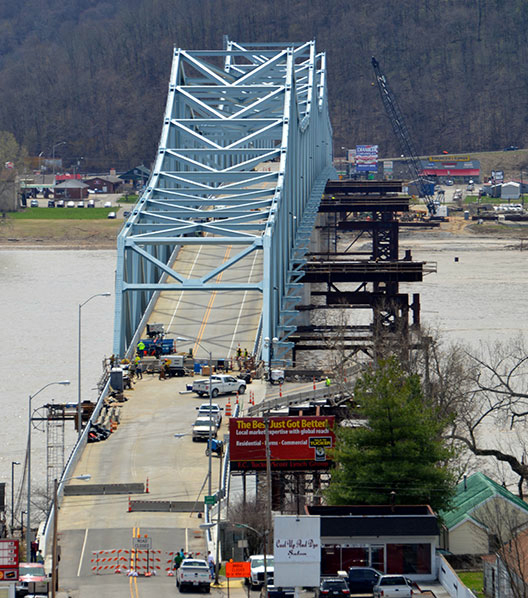 The Milton-Madison bridge-slide won a Best Use of Innovation award in this year's American Transportation Awards.
Photo: Milton-Madison Bridge Project