August 23, 2013
Innovation Implementation: Accelerated Bridge Construction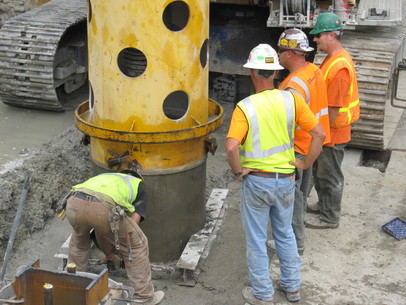 Accelerated bridge construction uses safe and cost-effective planning, design, materials and construction methods to reduce the on-site construction time involved in building bridges. Through Every Day Counts, state highway agencies are working with the Federal Highway Administration to incorporate three ABC technologies into their standard practices: slide-in bridge construction, prefabricated bridge elements and systems and geosynthetic reinforced soil integrated bridge systems.
PBES are structural components of a bridge that are built away from or next to the construction site and moved to the work zone for rapid installation. Because PBES components are usually fabricated under controlled conditions, weather has less impact on the quality and duration of the project. The result is more durable bridges that can be built faster, more safely and with less traffic congestion.
As part of EDC, FHWA conducted a series of regional peer exchanges to promote the benefits of PBES and share practices used in each region. Bridge practitioners from state and local agencies, contractors, suppliers and academia attended the five exchanges. The gatherings provided a forum to discuss PBES strategies on planning, engineering, materials, research, contracting and construction. They also gave participants an opportunity to explore ways to improve on the methods used to implement PBES. The PBES Peer Exchange website features presentations from each exchange. Participants also visited local PBES-related projects, such as the Boston-Bay Street Bridge in Taunton, Mass, shown here.
Every Day Counts Featured at Maryland Event
An FHWA exhibit at the Maryland Association of Counties Summer Conference focused on EDC strategies for locally administered Federal-Aid projects. One resource the exhibit promoted was the collection of informational videos on the Federal-Aid Essentials for Local Public Agencies website. More than 2,500 local, state and federal officials attended the conference, which this year concentrated on economic development and tourism in the state with a "Bringing It All Back Home" theme.
Accelerated Bridge Construction Speeds Washington Bridge Project
The permanent replacement for the collapsed I-5 Skagit River Bridge span reached a major milestone August 13 as crews began setting eight enormous concrete girders that will support the new roadway. The Washington State Department of Transportation is using accelerated bridge construction techniques to complete the project quickly. After taking two to three days to put all of the girders in place, crews planned to spend two to three weeks working on the final roadway, including the deck, barriers and other key components. Traffic has been traveling on a temporary span since June as crews use prefabricated components to build a permanent span. The project is on schedule to replace the temporary span in September.
FHWA Reconstructs Pavements at Test Facility
FHWA's Turner-Fairbank Highway Research Center is reconstructing the pavements at its Pavement Testing Facility in McLean, Va., with new base material and asphalt mixes using varying recycled asphalt pavement contents and warm-mix asphalt technologies. Data collection for retrofit intelligent compaction equipment is also being used. The project will expand FHWA's ability to test new pavement technologies and provide data on the installation, calibration and repeatability of intelligent compaction technologies.