September 24, 2015
Innovation of the Month: Data-Driven Safety Analysis
Systemic safety analysis screens an entire road network for features associated with severe crashes and identifies cost-effective safety countermeasures. It's one of the techniques the Federal Highway Administration is promoting through the Every Day Counts effort on data-driven safety analysis.
One agency using systemic analysis is the Missouri Department of Transportation. Historically, the agency painted centerline and edgeline stripes on routes that carry 1,000 or more vehicles a day, while routes with average daily traffic of less than 1,000 received just a centerline stripe.
When a systemic safety analysis found a large number of severe crashes on roads carrying 400 to 1,000 vehicles a day, the Missouri DOT proactively painted edgelines on all 7,500 miles that fell in this average daily traffic range. As a result, crashes have dropped 15 percent.
Learn more about systemic analysis tools:
FHWA's Systemic Safety Project Selection Tool provides a process for conducting systemic analysis and a mechanism for quantifying the benefits of systemic improvements.
The U.S. Road Assessment Program's usRAP Tools software enables agencies to generate a program of improvements for a road network, prioritized on a benefit-cost basis.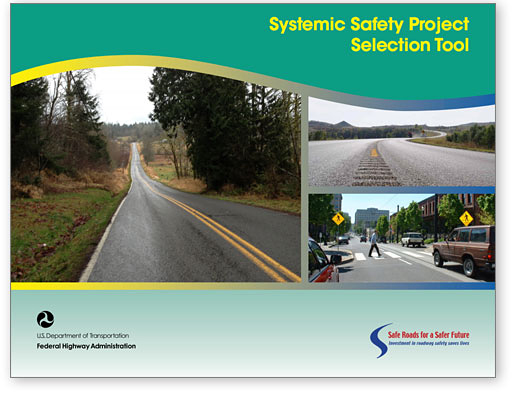 Newest STIC Chartered in U.S. Virgin Islands
The U.S. Virgin Islands State Transportation Innovation Council is the newest member of the national STIC network, now totaling 48 groups. According to its charter signed September 17, the U.S. Virgin Islands STIC will "foster a collaborative culture for rapid implementation of meaningful innovations to efficiently deliver to the public a modern, high-quality highway system." The STIC includes representatives of the Virgin Islands Department of Public Works, Virgin Islands Port Authority, chambers of commerce, design firms, Local Technical Assistance Program and FHWA.
Florida Builds Nation's Largest Diverging Diamond Interchange
The Florida Department of Transportation broke ground September 2 on its first, and the nation's largest, diverging diamond interchange. The interchange, at I-75 and University Parkway in Sarasota, will help ease congestion and reduce crashes on one of the area's busiest roads. The $74.5 million project includes new auxiliary lanes, bridges, lighting, traffic signals, noise barrier walls, sidewalks, bike lanes, pedestrian walkways and widening University Parkway. The project is expected to be completed in two years.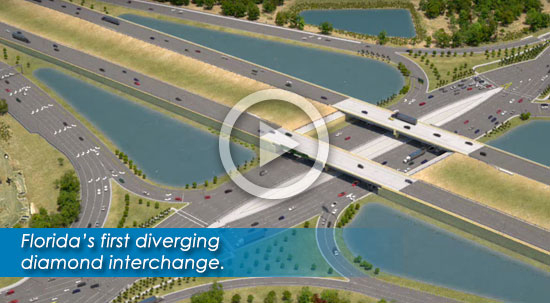 Watch overview of Florida's first diverging diamond interchange. Credit: Florida DOT
New Mexico Tests Intelligent Compaction
The New Mexico Department of Transportation used intelligent compaction for the first time when it reconstructed a segment of NM 529 near Hobbs. The agency specified intelligent compaction on the paving project to test the effectiveness of the technology. Equipped with integrated measurement systems, intelligent compaction rollers allow for real-time monitoring and correction of the compaction process. Data gathered during the project will enable the New Mexico DOT to evaluate intelligent compaction for potential application on future projects.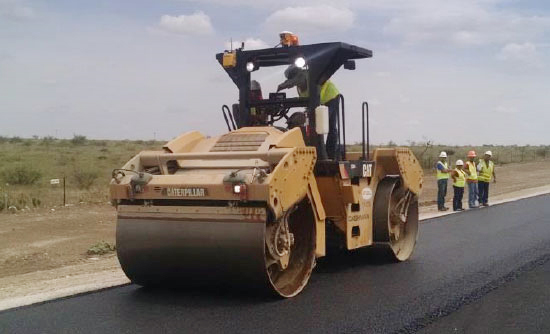 Virginia Transportation Professionals Meet for EDC Exchange
Transportation professionals representing local governments and industry in Virginia participated in a group discussion as part of the September 15 EDC Exchange: Geosynthetic Reinforced Soil-Integrated Bridge System webcast. Technical representatives from Federal Lands Highway also participated in the discussion on ways to make construction costs more competitive, permitting requirements in environmentally sensitive areas and the need to increase lead time for building and ordering precast segments for GRS-IBS technology projects.
EDC-3 Innovations Featured at Fall Events
FHWA staff continued to spread the word about EDC-3 innovations at September events for transportation professionals. They made presentations on deploying e-Construction and using 3D engineered models in schedule, cost and post-construction applications at the International Highway Engineering Exchange Program Conference in Pittsburgh, Pennsylvania. They also discussed EDC-3 innovations at the ACEC-KY/FHWA/KYTC Partnering Conference in Louisville, Kentucky, which drew 600 participants.