October 1, 2015
Innovation of the Month: Road Diets
The Every Day Counts innovation of the month for October is road diets. The Federal Highway Administration is encouraging state, regional and local jurisdictions to consider road diets as a safety-focused alternative to mixed-use streets.
A road diet–also known as roadway reconfiguration–is a low-cost strategy that reallocates a roadway cross-section to safely accommodate all users, increase mobility and access, reduce crashes and improve a community's quality of life.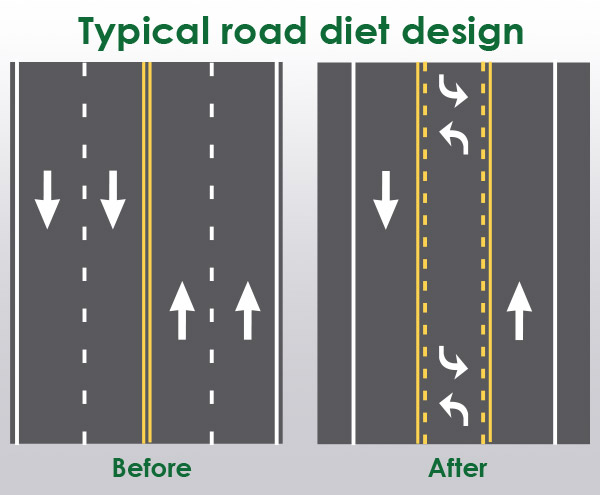 A common type of road diet involves converting a four-lane, undivided road to three lanes with two through lanes and a two-way turn lane in the middle. The reclaimed space can be allocated for uses such as bike and bus lanes, pedestrian refuge islands and parking.
The EDC Road Diet Innovation Deployment Team provides technical assistance on road diets. Upcoming outreach efforts include participating in the Safe Routes to School Roundtable in Washington, D.C., on October 27 and presenting a workshop in Roanoke, Virginia, on October 29.
To learn more, view the EDC-3 Road Diets presentation.
For technical assistance, contact Road Diet Innovation Deployment team leads Becky Crowe and Keith Harrison.
Puerto Rico Joins National STIC Network
Transportation leaders in Puerto Rico signed a charter September 24 establishing a State Transportation Innovation Council, bringing the number of STICs to 49. The Puerto Rico STIC brings together representatives of the Puerto Rico Highway and Transportation Authority, Department of Transportation and Public Works, Integrated Transit Authority, Local Technical Assistance Program, industry and FHWA. Its mission is "to facilitate the rapid implementation of technology, tactics and techniques among transportation program delivery professionals."
Arizona Conference Highlights Innovation Resources
FHWA staff discussed highway innovation deployment in Arizona at the American Society of Civil Engineers/American Society of Highway Engineers State Conference in Phoenix on September 11. They encouraged participants to explore innovation incentives available from the State Transportation Innovation Council Incentive, Accelerated Innovation Deployment Demonstration and second Strategic Highway Research Program Implementation Assistance programs. ASCE Executive Director Thomas W. Smith III encouraged further collaboration between the Arizona Council for Transportation Innovation and ASCE to support innovation in Arizona.
FHWA Certifies Traffic Incident Management Responder Master Trainers
Representatives of the Colorado Department of Transportation, Colorado State Patrol, Arizona Department of Transportation and Arizona Highway Patrol attended a traffic incident management responder train-the-trainer course September 22 and 23 in Durango, Colorado. At the session, FHWA instructors certified participants as TIM responder training master instructors, enabling them to conduct future TIM train-the-trainer sessions.
Delaware Workshop Focuses on Accelerated Bridge Construction
Transportation professionals from the public and private sectors learned about accelerated bridge construction at a September 19 workshop hosted by the Delaware Department of Transportation and FHWA. Speakers from the New York State and Pennsylvania Departments of Transportation provided an owner's perspective on ABC projects in their states. Contractors offered an industry view on the same projects.
Ohio Launches Road Diets eLearning Module
The Ohio Local Technical Assistance Program launched a new training module on road diets. The module "Introduction & Why Consider a Road Diet?" is available on the Ohio LTAP Center eLearning website. The free course covers why road diets are an effective safety improvement for roads, which road users can benefit from road diets and how to analyze the impact of road diets.
Innovative Oklahoma Bridges Withstand Flooding
At an event held in conjunction with the September 15 EDC Exchange: GRS-IBS webcast, Kay County, Oklahoma, officials discussed their experience building four geosynthetic reinforced soil-integrated bridge system structures. They reported that the bridges, built over Dry Creek in Blackwell, withstood significant flooding in May and June, highlighting a selling point for more GRS-IBS use in Oklahoma. The meeting was hosted by the Oklahoma Local Technical Assistance Program, Southern Plains Tribal Technical Assistance Program, Oklahoma Department of Transportation and FHWA.
Oklahoma Group Plans Towing Industry Training
An Oklahoma work group on traffic incident management responder training discussed developing a low- or no-cost training program for towing industry and transportation workers at its September 18 meeting. A draft of the training program includes hazardous materials response, vehicle extraction and fire extinguisher use. Meeting participants represented the Eastern Oklahoma County Technology Center, Oklahoma Wrecker Owners Association, Oklahoma Department of Public Safety, Oklahoma Highway Patrol, Local Technical Assistance Program, fire departments and FHWA.
Tennessee Demonstrates High Friction Surface Treatments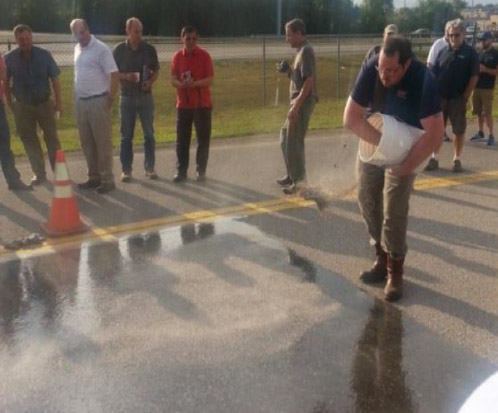 A Tennessee demonstration offered a firsthand look at high friction surface treatments.
A September 9 demonstration and open house, hosted in Nashville by the Tennessee Department of Transportation and Tennessee Technical Assistance Program, enabled 50 highway superintendents, public works directors, engineers and other transportation officials to learn about high friction surface treatments.
The event featured a demonstration of tools and materials used to apply HFST. Participants also learned about the benefits, costs, application and maintenance of the safety countermeasure used to reduce crashes at spot locations.
Peer Exchange Looks at Systemic Safety Practices
State and local participants discussed systemic safety practices at a September 15 and 16 peer exchange in Tennessee. The exchange encouraged participants to broaden their traffic safety efforts through data-driven safety analysis and consider risk as well as crash history when identifying locations for potential safety improvements. Participants included representatives from Alabama, Florida, Kentucky, Maine, Maryland, Mississippi, New Jersey, Pennsylvania, Puerto Rico and Tennessee.