October 18, 2013
Innovation Implementation: Geospatial Data Collaboration
Geospatial data collaboration uses technology-enabled business processes that make it easier to work across organizational boundaries. This Every Day Counts innovation facilitates collaboration on highway projects by allowing geographic information system data sharing among both internal and external partners.
The Florida Department of Transportation, for example, has an Efficient Transportation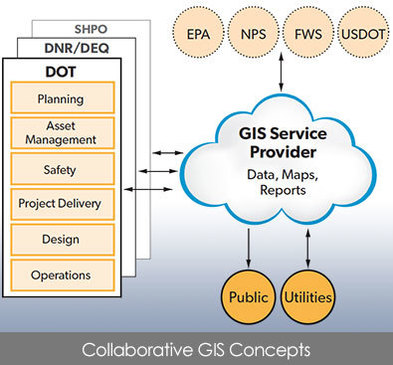 Decision Making process that uses a Web-based screening tool for making project decisions. The tool lets project partners input and update data, conduct analyses, gather comments and communicate information on projects.
The EDC 2 geospatial data collaboration effort builds on the planning and environmental linkages initiative in EDC 1. It's related to several other national efforts, such as the U.S. Environmental Protection Agency's e-NEPA online system for environmental impact statements.
Another example is the American Association of State Highway and Transportation Officials' deployment of environmental planning geographic information system tools through its Technology Implementation Group.
Safety Conference Features Innovative Intersections
Intersection and interchange geometrics were the topic of the keynote speech at the Upper Midwest Traffic Operations and Safety Engineering Summit in La Crosse, Wisconsin, on October 8. Federal Highway Administration staff highlighted the application of mini-roundabouts in the Minneapolis-St. Paul metropolitan area of Minnesota. They also discussed the use of alternative intersections-including the displaced left turn, quadrant roadway and median U-turn-to improve safety and reduce delays on roads throughout the United States.
New York Offers Planning and Environmental Linkages Training
The New York State Department of Transportation and FHWA joined forces to present training on planning and environmental linkages. The sessions-October 15 in Syracuse and October 17 in Albany-were aimed at state agency planners and designers, metropolitan planning office staff and FHWA engineers. They focused on incorporating information developed during project planning into the National Environmental Policy Act review process to enhance decision making and shorten project delivery time.
Ohio Conference Focuses on Traffic Incident Response
The October 8 QuickClear Conference in Reynoldsburg drew first responders from throughout Ohio to learn about the state's program for detecting, responding to and clearing traffic incidents safety and quickly. FHWA staff presented a session on the national traffic incident management responder training program. Other conference topics included responder communications with the media, after-action reviews, responder interaction with the Ohio DOT's Traffic Management Center and median cable barrier extrication procedures. The Ohio DOT and Ohio State Highway Patrol plan to make the conference an annual event.