October 25, 2013
Innovation Implementation: State Transportation Innovation Councils
The Federal Highway Administration now offers incentives for State Transportation Innovation Councils. FHWA Administrator Victor Mendez announced the new program at a national meeting of STICs in September.
Under the program, each STIC can obtain up to $100,000 per year to support its innovation efforts under the Every Day Counts initiative. STICs-led by the highway agency head and FHWA division administrator in each state-bring together transportation stakeholders to identify and implement innovations.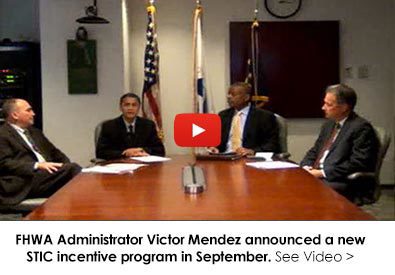 The money can be used for a variety of activities to make innovations standard practice in a state. Examples include developing technical guidance and standards, implementing system process changes, organizing peer exchanges, delivering training and creating an evaluation plan.
For details on how to apply for a STIC incentive, contact the FHWA division office in your state.
Tennessee Demonstrates Intelligent Compaction
The Tennessee Department of Transportation hosted a Highways for LIFE project showcase in Lincoln County on October 23 to promote intelligent compaction technology. The agency is using the technology on several asphalt pavement resurfacing projects to improve pavement stiffness and reduce highway repair costs. More than 100 participants attended the event. It featured a workshop and visit to the construction site to learn about the benefits of using compaction rollers with intelligent capabilities and the experience of construction contractors.
FHWA's focus on intelligent compaction through Every Day Counts highlights its ability to enhance project quality control by increasing uniformity and accelerating construction by providing real-time compaction information feedback to roller operators and facility owners.
Utah and Missouri Win Awards
Highway agencies in Utah and Missouri earned top honors in a competition to recognize America's best transportation projects. The Utah Department of Transportation won the 2013 America's Transportation Awards Grand Prize for its I-15 corridor expansion project. The agency used innovative scheduling and planning techniques to finish the $1.7 billion project two years ahead of schedule and save taxpayers $260 million.
The Missouri Department of Transportation got the People's Choice Award for its Safe and Sound Bridge Improvement Program that rehabilitated and replaced more than 800 bridges more than a year ahead of schedule. Five of the 10 finalists in the competition-including the two winners-used Every Day Counts innovations on their projects. The annual competition is sponsored by the American Association of State Highway and Transportation Officials, AAA and the U.S. Chamber of Commerce.