November 15, 2013
Innovation Implementation: Construction Manager/General Contractor
The construction manager/general contractor project delivery method enables a project owner to hire a contractor to offer feedback during the design phase. Once the design is complete, the contractor and owner negotiate a price for the construction contract.
The Moving Ahead for Progress in the 21st Century Act allows the use of CM/GC, and 16 states now have legislation enabling them to apply the approach.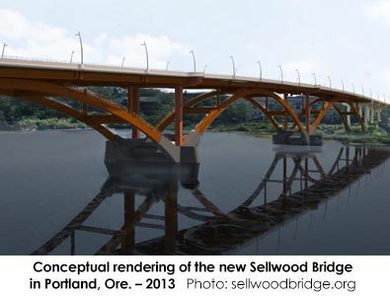 Nine states have CM/GC experience Arizona, Colorado, Florida, Michigan, Nevada, Maine (on an emergency project), Minnesota, Oregon and Utah. Resources that can help other states interested in trying the technique include sample CM/GC documents from Oregon and Utah.
CM/GC is being used on a project to replace the Sellwood Bridge over the Willamette River in Portland, Ore., with a new, seismically sound structure with upgraded features. It's the first time Multnomah County has tried CM/GC on a transportation project. Among the contractor team's approaches are using a temporary bridge and phasing the project to mitigate construction impacts on traffic, the community and the environment.
District of Columbia Completes $44 Million New York Avenue Bridge
Washington, DC Mayor Vincent Gray, other District officials and District Division Administrator Chris Lawson joined in an October 24th ribbon cutting ceremony to celebrate the completion of the District's largest Recovery Act project, the $44 million New York Avenue Bridge. The new bridge, constructed with a design/build approach, has a 75-year design life and accommodates 87,000 vehicles per day.
Michigan STIC Expands Scope
The Michigan State Transportation Innovation Council (MI-STIC) met on October 31st to expand its scope from only Every Day Counts initiatives to highway innovation in general, including Every Day Counts, SHRP2, and other proven technologies. To facilitate the new focus, four teams have been established in the areas of Roads, Bridges, Operations/Safety, and Public Outreach. Each team will be charged with brining innovation proposals to the MI-STIC for approval, deploying those innovations and reporting on accomplishments. The STIC concept began in 2010 and has been implemented in states across the country.