November 27, 2013
We're publishing this week's edition early because of the Thanksgiving holiday, when many readers will be away from the office. Have a safe and joyful holiday.
Award Winners
Every Day Counts innovations are helping government agencies and private industry build award-winning projects that enhance the nation's transportation system.
On November 6, the Roadway Safety Foundation and the Federal Highway Administration recognized 12 highway projects and programs as winners of the biennial National Roadway Safety Awards. The winners are credited with reducing fatalities and injuries on U.S. roads through excellence and innovation in operations, planning and design.
At least three winners used Every Day Counts innovations:
The Connecticut Department of Transportation converted a rotary to a modern roundabout, which resulted in a 50 percent drop in the number of crashes at the site.
Interstate Road Management Inc. installed high-friction surface treatments at 26 locations in a Kentucky project to reduce fatalities on horizontal curves.
The Tennessee Department of Transportation improved safety at four intersections where a number of side-swipe crashes had occurred by implementing new J-turn designs.
On November 12, the National Asphalt Pavement Association received a 2013 NOVA Award from the Construction Innovation Forum for its work to speed deployment of warm-mix asphalt.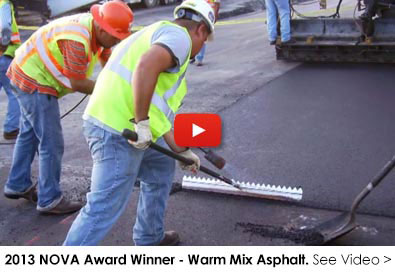 "In 2010, FHWA named warm-mix asphalt as an Every Day Counts initiative because it was a proven technology with environmental and construction benefits," NAPA President Mike Acott said. "Three years later, most states have specifications for warm mix and its use continues to grow."
In choosing warm-mix asphalt to win the NOVA Award, the investigators cited its ability to improve compaction, reduce energy use, enhance worker comfort, lengthen the paving season and cut overall paving costs. The video below provides an overview of the technology.
Tennessee Officials Explore Safety Initiatives
More than 200 state and local transportation officials convened for the Annual Tennessee Highway Safety and Operations Conference November 19-21 in Nashville. This year's theme was "Working Together for Safety and Mobility," with sessions on initiatives to advance safety, operations and congestion mitigation goals in the state. FHWA staff made presentations on the Every Day Counts and MAP-21 safety and operations initiatives.
Virginia Opens Gilmerton Bridge
The Virginia Department of Transportation celebrated the opening of the new four-lane Gilmerton Bridge on Military Highway in Chesapeake on November 14. The $134 million vertical lift bridge will ease traffic congestion for the 35,000 vehicles that use it daily and provide taller clearance for ships. Accelerated bridge construction techniques, including building the lift span off site and floating it in on a barge for final placement, were among the innovations used to build the bridge.
Environmental Best Practices Topic of Webinar
FHWA staff covered implementing quality environmental documentation and programmatic agreements during a November 13 webinar for environmental professionals. Nearly 150 public and private sector representatives participated in the "Guiding Ideas in Transportation" event on best practices, initiatives and success stories in transportation planning under the Moving Ahead for Progress in the 21st Century Act. It was sponsored by the National Association of Environmental Professionals.
Course Covers Roundabout Safety
Representatives from Grand Teton National Park and the National Park Service Pacific West Region participated in a "Roundabout Design" course November 19 "20. The FHWA course covered the design of roundabout layouts through case studies and group exercises. Topics included the safety behind roundabouts as an intersection improvement; signs, pavement markings and lighting for roundabouts; and how to design roundabouts to accommodate all road users.