December 6, 2013
Innovation Implementation: Intersection and Interchange Geometrics
December's innovation of the month is intersection and interchange geometrics, designs that can accommodate traffic volumes more efficiently while enhancing safety for travelers. They include diverging diamond interchanges, displaced left turn intersections, U-turn intersections and modern roundabouts.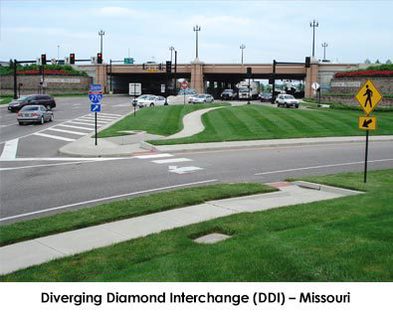 About half of all severe crashes in the United States occur at intersections. These proven designs improve intersection safety by strategically eliminating or relocating the left-turn conflicts that can cause problems. Other benefits include decreased delays for motorists and, in some cases, reduced construction time and costs.
The Federal Highway Administration recommends that highway agencies include these designs in their evaluation processes for intersection construction and reconstruction projects and use them where appropriate.
One of the states using them is Missouri, which has 10 diverging diamond interchanges in place (see photo) and more in development. The state also has several roundabouts and restricted crossing U-turn intersections and a displaced left turn intersection.
Colorado First Responders Attend Training
First responders who work on the I-70 Mountain Corridor attended the Colorado State Patrol's November 22 national traffic incident management responder training sessions in Golden and Silverthorne. The sessions covered elements of traffic incident management and best practices to use during an incident. A key message was the importance of good communication among all first responders. Participants represented fire departments, emergency medical services, police agencies, the towing industry, the Colorado Department of Transportation and FHWA.
CAI Organizes TRB Sessions on Innovation
The Center for Accelerating Innovation is planning two sessions for the Transportation Research Board's January 2014 Annual Meeting that focus on innovation. "Leadership and Innovation" 1:30 to 3:15 p.m. on January 13 will feature remarks by FHWA Administrator Victor Mendez, Utah Department of Transportation Executive Director Carlos Braceras, Pennsylvania Transportation Secretary Barry Schoch and Nokia Vice President Ogi Redzik. FHWA Executive Director Jeff Paniati will moderate.
"Legacy and Future of Project Demonstration Showcases" 2 to 4:30 p.m. on January 15 will look at the past, present and future of demonstration projects, which allow transportation professionals to see innovative construction approaches in action. Speakers include Bruce Seely of Michigan Technological University on the history of demonstration projects, Mary Lou Ralls of Ralls-Newman on how showcases have demonstrated the benefits of accelerated bridge construction, Ewa Flom of FHWA on funding available for showcases and Randy Brown of Applied Research Associates on using game-based learning tools to conduct virtual demonstration projects. Kathleen Bergeron of FHWA will moderate.