December 10, 2015
Attention Stakeholders:
It's Time to Identify Innovations for Next Round of Every Day Counts
A Federal Highway Administration request for information in today's Federal Register asks transportation stakeholders to suggest proven, market-ready innovations to deploy in the fourth round of Every Day Counts.
"We're looking for more technologies, materials and processes to ensure we continue to deliver transportation to the American people better, faster and smarter," said FHWA Administrator Gregory Nadeau.
In addition to conducting market research for EDC-4, FHWA is collecting feedback on 15 high-value "innovations of interest."
Since 2009, FHWA has partnered with public agencies and the private sector to deploy EDC innovations. "Our hope is that by adding new innovations and processes to the EDC roster, we can continue transforming the way the highway community does business," Nadeau said.
The EDC-4 request for information closes on January 31, 2016. FHWA will collaborate with stakeholders to implement the EDC-4 innovations in 2017 and 2018.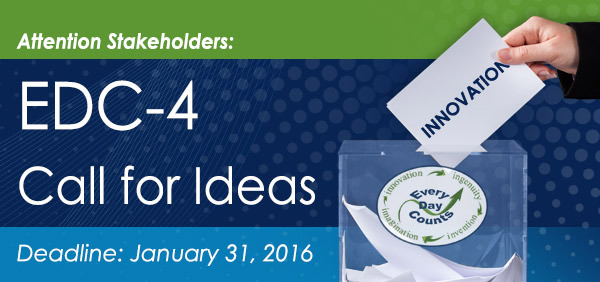 States Open Diverging Diamond Interchanges
The nation has two new diverging diamond interchanges. The Indiana Department of Transportation held a ribbon-cutting ceremony on November 23 to open the state's second diverging diamond interchange, at I-65 and County Road 750 North/Worthsville Road in Greenwood. The interchange is designed to enhance safety, address traffic congestion and provide access from I-65 to Johnson County. Indiana's first diverging diamond interchange opened in September 2014 in Fort Wayne.
The Iowa Department of Transportation and the cities of Waukee and West Des Moines celebrated the opening of Iowa's first diverging diamond interchange on December 1. The interchange carries Grand Prairie Parkway over I-80, providing interstate access to the heavily traveled arterial network in Waukee and West Des Moines.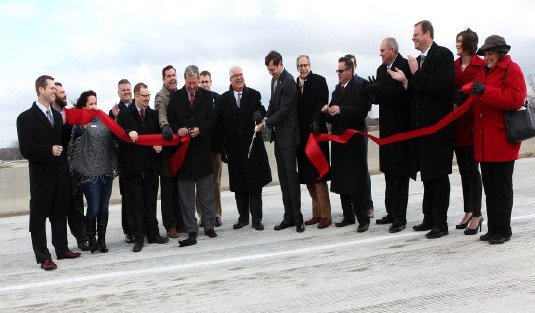 Iowa Hosts 3D Workshop
The Iowa Department of Transportation hosted an FHWA 3D engineered models workshop and peer exchange in Des Moines on December 2 and 3. The workshop enabled participants from state DOTs, private firms and FHWA to learn about 3D modeling practices in Iowa, Michigan and Utah and consider next steps to advance this EDC-3 technology. Participants also began developing implementation plans for using 3D models in structural design, contract documents, construction inspection, as-built plans and enterprise data storage.
Ohio River Bridges Project Reaches Milestone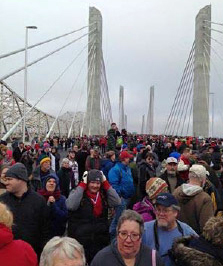 On December 5, U.S. Deputy Transportation Secretary Victor Mendez joined Kentucky Governor Steve Beshear and Indiana Governor Mike Pence for a ribbon cutting on the new northbound I-65 bridge between Louisville, Kentucky, and Jeffersonville, Indiana. Built using the design-build project delivery method, the Abraham Lincoln Bridge is the first new bridge across the Ohio River in the Louisville metropolitan area in 52 years. The bridge is part of the $2.3 billion Ohio River Bridges project, a joint effort between Indiana and Kentucky.
Tribal Safety Workshop Features EDC Innovations
A Tribal Safety Champions Workshop hosted by the Southern Plains Tribal Technical Assistance Program Center and FHWA on November 17 and 18 focused on roadway departure crash mitigation strategies. The event in Oklahoma City, Oklahoma, also featured EDC safety-related innovations, including road diets, smarter work zones, high friction surface treatments, data-driven safety analysis and national traffic incident management responder training. The workshop drew more than 100 participants from tribal nations and state and federal agencies. Workshop partners included the Southern Plains Transportation Center, Oklahoma Highway Safety Office, Oklahoma Department of Transportation and National Highway Traffic Safety Administration.
Webinar on Smarter Work Zone Approaches
The eighth webinar in the smarter work zones series on December 15 from 1 to 2:30 p.m. ET, will discuss the project coordination and technology application approaches to smarter work zones. Speakers will describe how the Iowa Department of Transportation used the two approaches to minimize conflicts, optimize project schedules, and improve work zone safety and mobility. Participants will learn how they can use project coordination and technology applications to meet their own states' work zone goals. Register here for the workshop.