December 17, 2015
Innovation of the Month: Ultra-High Performance Concrete Connections
The need for robust connection systems for prefabricated bridge components is driving interest in ultra-high performance concrete. Through Every Day Counts, the Federal Highway Administration is encouraging the transportation community to take a closer look at the advantages UHPC connections offer in bridge construction:
Accelerated construction – UHPC can provide durable and simplified details that facilitate the fabrication and construction efforts needed to connect prefabricated bridge elements.
Simplified connection details – The mechanical properties of UHPC allow for the redesign of common connection details in ways that promote both ease and speed of construction.
Improved long-term performance – Field casting of UHPC connections between prefabricated components results in a strongconnection that can provide better long-term performance.
Read the FHWA TechNote on Design and Construction of Field-Cast UHPC Connections for guidance on deploying UHPC connections.
Attend the UHPC for Prefabricated Bridge Elements workshop on January 10, 2016, from 9 a.m. to noon at the Transportation Research Board Annual Meeting in Washington, D.C.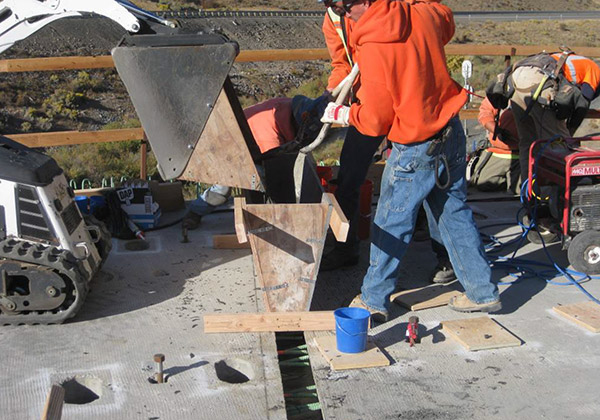 Arizona Holds Regional Traffic Incident Management Summit
Multidisciplinary leaders engaged in traffic incident management talked about ways to strengthen collaboration in the Southwest at a summit on December 9 and 10 in Phoenix, Arizona. Discussions included linking traffic incident management with safety, training, policies, procedures, performance measures, local challenges and the future of traffic incident management. The Arizona Department of Transportation, Arizona Department of Public Safety and Maricopa County Department of Transportation hosted the summit in partnership with the Arizona Council for Transportation Innovation, National Operations Center of Excellence and FHWA.
Minnesota Considers Innovative Intersection
Minnesota Department of Transportation and FHWA staff met with officials from the city of East Bethel and Anoka County, business owners and residents on December 8 about a potential signalized restricted crossing U-turn intersection at U.S. 65 and Viking Boulevard. The meeting's purpose was to introduce the RCUT concept to the community and answer questions. Analysis shows that constructing an RCUT would boost intersection capacity by 61 percent, clear queues on Viking Boulevard, cut crashes and have minimal impact on access and the environment. The cost to build an RCUT is a fraction of a grade-separated solution.
New Jersey Workshop Features Intelligent Compaction
An environmental justice planning workshop on December 15 in Columbus, Ohio, introduced regional models of cooperation to participants from metropolitan planning organizations, regional transportation planning organizations and the Ohio Department of Transportation. The workshop outlined presentation techniques, tools and best practices to enable transportation stakeholders to cooperate on environmental justice issues. FHWA developed the workshop, which included speakers from Florida, Ohio, Washington and Maryland.
Accelerated Bridge Construction Conference Attracts 600
FHWA Administrator Gregory Nadeau delivered the keynote speech at the National Accelerated Bridge Construction Conference, which drew 600 transportation professionals to Miami, Florida, December 6 through 8. FHWA staff conducted a workshop on ultra-high performance concrete connections for prefabricated bridge elements and gave a lecture on the EDC-3 technology. Sessions also covered FHWA research efforts on accelerated bridge construction, such as best practices for field-cast connections of bridge elements. The Accelerated Bridge Construction-University Transportation Center and Florida International University sponsored the conference.
Webinar on Smarter Work Zone Approaches
The eighth webinar in the smarter work zones series on December 15 from 1 to 2:30 p.m. ET, will discuss the project coordination and technology application approaches to smarter work zones. Speakers will describe how the Iowa Department of Transportation used the two approaches to minimize conflicts, optimize project schedules, and improve work zone safety and mobility. Participants will learn how they can use project coordination and technology applications to meet their own states' work zone goals. Register here for the workshop.
Journal Paper Discusses UHPC Study
Jiqiu Yuan and Ben Graybeal, members of FHWA's structural concrete research team at Turner-Fairbank Highway Research Center, published a peer-reviewed paper on ultra-high performance concrete in the American Concrete Institute's ACI Structural Journal. "Bond of Reinforcement in Ultra-High Performance Concrete" presents results, conclusions and recommendations from an FHWA research effort. The paper is expected to spur advancement in UHPC as more research extends the concept to additional reinforced concrete detailing scenarios.
View EDC Exchange on Stakeholder Partnering
See the EDC Exchange: Stakeholder Partnering webcast for information on an effective means of working together to increase program compliance and integrity and streamline the Federal-Aid project delivery process. Participants from 70 locations across the country engaged in the December 9 exchange, part of a series of EDC Exchanges that combine presentations on innovations with in-person discussions involving representatives of state, local and tribal agencies. Hear about the experiences of Virginia, Arizona and Ohio in using collaboration among representatives at various government levels to ensure their programs encompass the needs of all involved.