February 4, 2016
Innovation of the Month: Smarter Work Zones
The Every Day Counts innovation of the month for February is smarter work zones. This innovation provides strategies to optimize road user and worker safety and traffic mobility while highway construction projects are underway.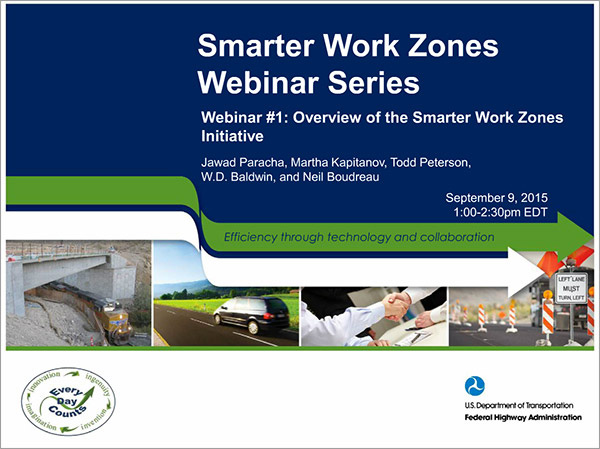 During the third round of EDC, more than 40 transportation departments across the country are deploying smarter work zones and more than a dozen plan to institutionalize them.
The Federal Highway Administration is encouraging adoption of two smarter work zone approaches:
Project coordination to minimize work zone traffic impacts involving projects in a corridor, network or region
Technology applications to improve safety and mitigate congestion by deploying intelligent transportation systems to dynamically manage work zone traffic impacts
To learn more, watch recorded sessions in the smarter work zones webinar series and register for upcoming webinars.
For technical assistance and training, contact EDC-3 Smarter Work Zones Innovation Deployment Team leaders Paul Pisano and Jawad Paracha of the FHWA Office of Operations.
Alaska Builds First Diverging Diamond Interchange
Construction is scheduled to start this spring on a diverging diamond interchange project in Anchorage, Alaska, the first DDI for the Alaska Department of Transportation and Public Facilities. The project at Glenn Highway and Muldoon Road is expected to reduce crashes and increase traffic capacity. FHWA provided technical assistance for the project, including engineering and simulation analysis. Watch a video that shows how the DDI will work.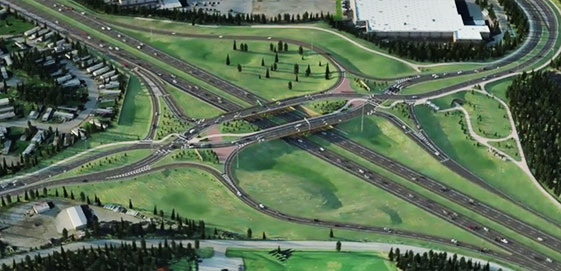 Colorado Turns to Data Analysis Tools to Cut Crashes
The Colorado Department of Transportation will increase its use of data-driven safety analysis tools to better target highway safety investments in the wake of a jump in traffic fatalities. Preliminary data indicate 545 people died in crashes in 2015, compared to 488 in 2014. FHWA is working with the Colorado DOT to organize peer exchanges, road safety audits, webinars and roadway data analysis training workshops in 2016. The Colorado DOT plans to fund more safety projects in 2016 than in past years and is collaborating with the National Highway Traffic Safety Administration to launch new anti-drugged and anti-drunk driving campaigns.
Oklahoma Industry and Agencies Partner on Inspection Training
Local and tribal government staff participated in training on hot-mix asphalt materials acceptance and construction inspection on January 21 in Clinton, Oklahoma. Agenda topics included Safety Edge, warm-mix asphalt and intelligent compaction. Inspection staff representing Circuit Engineering Districts, local agencies, tribes, the Bureau of Indian Affairs and the Oklahoma Department of Transportation attended the session. The Oklahoma Asphalt Pavement Association, Oklahoma DOT and FHWA collaborated on the training.
South Carolina Breaks Ground on Interchange Project

A groundbreaking ceremony is set for tomorrow for the I-85/I-385 Gateway project in Greenville, South Carolina. The project, being built with the design-build delivery method, is the second largest in the South Carolina Department of Transportation's history. It is designed to address operation and safety issues at the interchange by eliminating loop ramps, reducing weaving segments and constructing collector-distributor lanes. Completion is scheduled for spring 2019.
Wisconsin Transportation Conference Looks at Information Needs
FHWA speakers made presentations on e-Construction, 3D engineered models and the Fixing America's Surface Transportation Act at the Wisconsin Transportation Builders Association's Contractor-Engineer Conference on January 28 and 29 in Middleton. The annual conference brings together industry, Wisconsin Department of Transportation and FHWA participants to discuss advancing the state of practice in transportation construction. This year's agenda focused on the information needs of transportation stakeholders to deliver Wisconsin's projected 2016 program of 332 projects worth $1.2 billion.
FHWA Delivers Webinar on UHPC Connections
More than 650 people participated in a January 21 webinar on ultra-high performance concrete connections for accelerated bridge construction presented by FHWA. Part of Florida International University's ABC webinar series, the session introduced the design, construction and performance of field-cast UHPC used in connections between prefabricated bridge elements. The technology is in service on more than 130 bridges in the United States and Canada.