February 25, 2016
Innovation of the Month: Smarter Work Zones
Through Every Day Counts, the Federal Highway Administration is encouraging transportation agencies to adopt technology applications as a smarter work zone strategy to improve safety and reduce congestion.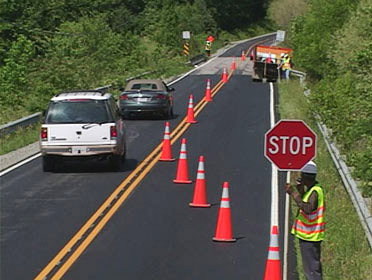 The North Carolina Department of Transportation developed a method to collect data and assess mobility on rural construction projects. This technology application involves using a K-band Doppler device to monitor
manual flagging operations
in single-lane work zones and developing mobility scores to use in making decisions on future work zone operations.
The Massachusetts Department of Transportation used technology applications to mitigate the traffic impacts of an urban project, the Callahan Tunnel rehabilitation. Using real-time data from intelligent transportation system infrastructure, the agency monitored peak-time traffic and used message boards to notify drivers of delays and guide them to alternate routes.
View the Implementing Technology Application Solutions webinar for more information on applying technology in work zones.
Read FHWA's Work Zone Intelligent Transportation Systems Implementation Guide for key steps in deploying ITS in work zones.
Alabama Accelerates Construction With First Bridge Slide
The Alabama Department of Transportation used slide-in bridge construction for the first time when it replaced side-by-side bridges in Dothan. The bridges were built next to Ross Clark Circle and slid into place during road closures. Officials said efficient construction practices and good weather enabled crews to complete the bridge slides in three days, four days faster than estimated. Using standard construction would have required a road closure of nine to 12 months. The project received FHWA Accelerated Innovation Deployment Demonstration funds.
Nebraska Charters 50th STIC
The Nebraska Innovation Task Force is the newest member of the national network of State Transportation Innovation Councils, now totaling 50 groups. Transportation leaders signed a charter establishing the Nebraska group on February 11. "The STIC will act as a catalyst for rapid deployment of nationally identified technologies, techniques and tactics that have been demonstrated in real-world applications and can offer improved performance and effectiveness in Nebraska," according to the charter.
Oregon Showcases Accelerated Construction on Portland Bridge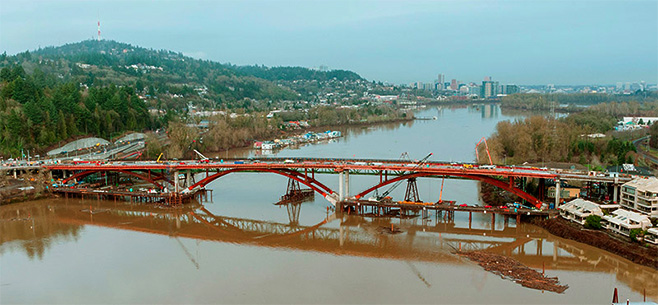 The new Sellwood Bridge in Portland, Oregon, will open to traffic March 1. The Multnomah County project to replace a 90-year-old bridge over the Willamette River showcased the use of accelerated bridge construction and the construction manager/general contractor delivery method. The new, seismically sound structure offers upgraded facilities for all users, including drivers, bicyclists and pedestrians. The project received a TIGER grant from the U.S. Department of Transportation.
Washington Shares Ultra-High Performance Concrete Experience at Workshop
A February 17 workshop in Tumwater, Washington, enabled more than 65 people from public agencies, academia and industry to learn about ultra-high performance concrete connections for prefabricated bridge elements. The Washington State Department of Transportation hosted the FHWA-sponsored workshop, which included presentations on designing, constructing, monitoring and testing UHPC connections. It also covered examples of recent projects with UHPC connections and the Washington State DOT's efforts to implement the technology.
FHWA Launches Stakeholder Partnering Resource Library
The EDC-3 Stakeholder Partnering Resource Library provides information to help state and local organizations establish or improve stakeholder partnering efforts and enhance Federal-Aid Highway Program project delivery processes. Resources include case studies, fact sheets, presentations, reports, training, videos and examples of stakeholder partnering team charters.