April 7, 2016
Innovation of the Month: Geosynthetic Reinforced Soil-Integrated Bridge System
The Every Day Counts innovation of the month for April is geosynthetic reinforced soil-integrated bridge system technology. GRS-IBS is a simple, adoptable design using alternating layers of compacted granular fill and geosynthetic reinforcement to support bridges.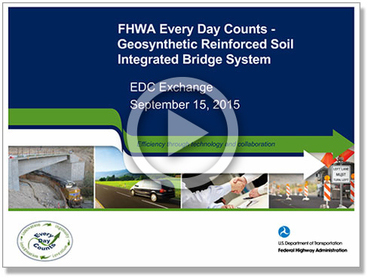 GRS-IBS has developed a track record as part of all three rounds of EDC. Just a few GRS-IBS structures were built in a few counties before the technology was added to the EDC roster in 2010. Now the number of GRS-IBS structures is nearing 300 nationwide.
Eight states have adopted GRS-IBS technology as a standard practice. Another 27 states, Washington, D.C., Puerto Rico and Federal Lands Highway have used GRS-IBS on projects or are preparing to deploy the technology.
Highway agencies that plan to build their states' first GRS-IBS projects this summer are Connecticut, Indiana, North Carolina, Rhode Island, Texas and Wyoming.
View the GRS-IBS EDC Exchange for an update on deployment and case studies.
Contact Daniel Alzamora of the FHWA Resource Center for technical assistance and training.
Arizona Conference Focuses on Changing Technology
More than 1,500 people attended the Arizona Conference on Roads & Streets in Tucson on March 23 to 25 to learn about topics such as developing transformational leadership, connected vehicle technology and adaptive signal control technology. The American Council of Engineering Companies of Arizona hosted the event, which featured a "Technology Changes Everything" theme. U.S. Transportation Deputy Secretary Victor Mendez was the keynote speaker.
Connecticut STIC Reviews Goals and Progress
The Connecticut State Transportation Innovation Council met March 30 to discuss STIC goals and provide updates on innovations deployed during EDC-2 and EDC-3. Members also agreed to sponsor EDC workshops for stakeholders. The first workshop will be on improvements in project delivery.
New York Seminar Features Design-Build Projects
FHWA staff gave a presentation on verifying contractor data on projects delivered with the design-build method at a seminar hosted by the Metropolitan Section of the American Society of Civil Engineers in Albany, New York. The presentation included case studies on three design-build projects under construction in the New York City area. The presentation was part of a seminar to provide continuing education for members.
North Dakota Program Seeks Innovative Ideas
The North Dakota Department of Transportation is starting year two of its partnership with the Upper Great Plains Transportation Institute on the Transportation Innovation Program. TRIP solicits and implements innovative ideas from stakeholders for transportation-related projects, processes and products. May 16 is the deadline for the current call for suggestions. TRIP received funding from FHWA's State Transportation Innovation Council Incentive program.
Washington Uses Innovative Delivery Method on Terminal Project
Washington State Department of Transportation, Washington State Ferries, Federal Transit Administration and FHWA staff met March 8 to discuss to discuss funding for the Seattle Multimodal Terminal at Colman Dock project. The project will use the construction manager/general contractor delivery method to replace the Colman Dock Ferry Terminal to improve safety. The project, estimated at $326 million for construction, is in final design.
Journal to Publish FHWA Article on Pavement Safety Performance
The International Journal of Pavement Engineering accepted a paper on an FHWA study that uses crash data to show how pavements contribute to safety. The study—detailed in the Evaluation of Pavement Safety Performance report—looked at the effects of various low-cost pavement treatments on roadway safety, including high-friction surface treatments applied at spot locations to reduce crashes.