May 12, 2016
Innovation of the Month: 3D Engineered Models: Schedule, Cost and Post-Construction
Success with using 3D engineered models to enhance design and construction processes is encouraging the transportation community to apply these models to other phases of the project delivery cycle.
Expanding 3D data use offers several benefits:
Improved project management—Incorporating schedule, or 4D, information into 3D models helps stakeholders visualize construction over the life of a project and identify potential conflicts.
More accurate cash-flow estimates—Adding cost, or 5D, information to models enables stakeholders to evaluate costs and model cash flow for each construction phase.
A living record throughout the project life cycle—Using 3D models in post-construction and program-level applications enables agencies to create asset inventories and as-built records for maintenance, management and planning. An example is an inventory of subsurface features, such as utilities.
See the 3D Engineered Models website for information on workshops, case studies, technical briefs and specifications.
Contact Chris Schneider of the Federal Highway Administration's Office of Infrastructure or David Unkefer of FHWA's Resource Center for information or technical assistance.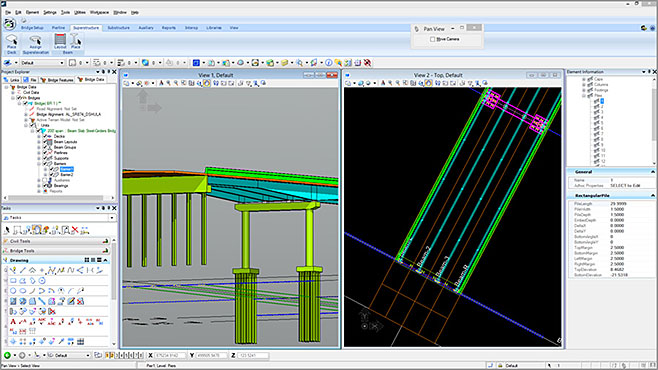 Alaska Ready for Construction Manager/General Contractor Project
A construction manager/general contractor workshop April 27 and 28 in Fairbanks helped the Alaska Department of Transportation and Public Facilities prepare for its next project using the delivery method. The project will replace a bridge on the Parks Highway through Denali National Park and provide safe paths for pedestrians and bicyclists. The workshop enabled participants to learn about the benefits of early contractor involvement in projects.
Delaware Breaks Ground on First Diverging Diamond Interchange
The Delaware Department of Transportation broke ground April 29 on a project to build the state's first diverging diamond interchange at Delaware Routes 1 and 72 in New Castle County. The agency is using the design-build delivery method on the project, which received an Accelerated Innovation Deployment Demonstration grant from FHWA. Using innovation is expected to lower project costs while enhancing safety and mobility at the interchange.
Maine Offers Local Project Administration Training
About 50 municipal officials and private sector transportation professionals participated in the Maine Department of Transportation's local project administration certification course on April 28. Course participation is required for those involved in administering federally funded local transportation projects in the state. Participants learned about the project development process from start to finish, including consultant selection, project design, environmental and right-of-way processes, utility coordination and construction.
Michigan Hosts Interactive Highway Safety Design Model Workshop
The Michigan Department of Transportation and Local Technical Assistance Program Center hosted a workshop on the Interactive Highway Safety Design Model, a suite of software analysis tools that support data-driven safety analysis. Michigan DOT, local agency and FHWA staff attended the workshop April 28 and 29 in Lansing. The Michigan DOT held the workshop to spur the use of predictive safety modeling in the state.
New Hampshire Updates Programmatic Agreement
The New Hampshire Department of Transportation and FHWA signed an updated programmatic agreement for categorical exclusion approvals on May 5. The New Hampshire DOT has had an agreement in place for 16 years that allows it to determine whether projects qualify for categorical exclusions, actions that don't involve significant environmental impacts. The updated agreement satisfies requirements of the Moving Ahead for Progress in the 21st Century Act, which expands and standardizes allowable categorical exclusions.
Rhode Island Accelerates Bridge Project to Reduce Traffic Impact
The Rhode Island Department of Transportation is using accelerated bridge construction techniques to replace the East Shore Expressway and McCormick Quarry bridges in East Providence. The agency will cut construction time and traffic delays on the project by building geosynthetic reinforced soil abutments and installing new superstructures with self-propelled modular transporters. The bridges—a vital link in Rhode Island's highway system—are expected to be completed a year earlier than possible using conventional construction methods.
Peer Exchanges to Feature Safety Analysis
More than 150 participants from 27 state transportation departments are expected to attend three peer exchanges on data-driven safety analysis. The peer exchanges are set for May 24 to 26 in New Orleans, Louisiana; June 21 and 22 in Sterling, Virginia; and July 13 and 14 in Kansas City, Missouri. The agenda will cover applying crash prediction methods in the American Association of State Highway and Transportation Officials Highway Safety Manual and incorporating quantitative safety performance into project development processes and procedures.