June 2, 2016
Innovation of the Month: Stakeholder Partnering
The Every Day Counts innovation of the month for June is stakeholder partnering, which helps local, state and federal agencies collaborate to increase program compliance and streamline the project delivery process under the Federal-Aid Highway Program.
Local agencies own about 75 percent of all roads and more than half of the nation's bridges. About 20 percent of the Federal-Aid Highway Program budget goes to fund local projects.
Partnering has been used to improve delivery of local transportation projects since the late 1980s. The focus in the third round of EDC is on applying that model of success at the programmatic level to enhance delivery of local projects.
Stakeholder partnering on local projects is an institutionalized practice in 17 states, according to the Federal Highway Administration's latest report on EDC-3 progress. Another 21 states are making progress on their efforts to establish stakeholder partnering groups or developing an implementation process.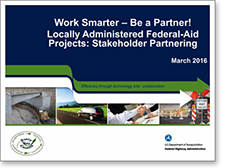 Watch the
Local Public Agency Stakeholder Partnering Webinar
for details on the state of the practice and available resources.
Contact Michael Smith of the FHWA Resource Center or Robert Wright of the FHWA Office of Infrastructure for information or technical assistance.
Indiana Peer Exchange Reviews Performance-Based Planning
A regional models of cooperation peer exchange enabled Indiana and Ohio organizations to share strategies on performance-based planning and programming. Representatives of the Indiana Department of Transportation, metropolitan planning organizations and FHWA welcomed colleagues from the Ohio Department of Transportation and Northeast Ohio Areawide Coordinating Agency at the May 25 workshop. Participants discussed the importance of improving data sharing and developing scalable performance measures for large and small metropolitan planning organizations.
Construction Manager/General Contractor Accelerates New Mexico Projects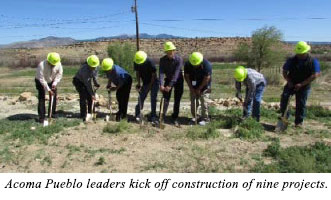 Pueblo of Acoma leaders broke ground May 12 on the first of a series of nine
transportation improvement projects
in Acomita Village, New Mexico. The Pueblo of Acoma is using the
construction manager/general contractor
method to accelerate construction while delivering the projects under budget and enhancing quality and long-term sustainability. The projects include road stabilization, intersection safety improvements, bridge replacements, development of a road maintenance plan and a highway reconstruction that accommodates biking and walking paths. The projects are scheduled for completion by September 2017.
University of Rhode Island Hosts Transportation Forum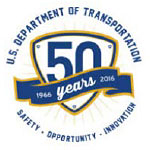 A May forum at the University of Rhode Island on "The Future of Transportation—Innovation, Safety and Opportunity" celebrated National Transportation Week and FHWA's 50th anniversary. Speakers discussed the FHWA
Every Day Counts
and U.S. Department of Transportation
Ladders of Opportunity
initiatives. A Rhode Island Department of Transportation presentation explained how the
Route 6/10 Connector
project in Providence meshes with U.S. Transportation Secretary Anthony Foxx's
Connecting People to Opportunity
vision.
Washington Design-Build Project Wins Award
The Washington State Department of Transportation's State Route 520 pontoon construction project won an Associated General Contractors 2016 Build Washington Award. The SR 520 pontoon design-build project involved two elements: designing and building a pontoon-casting facility and constructing 33 concrete pontoons to support the new SR 520 floating bridge across Lake Washington. The pontoon-casting facility in Grays Harbor County included a concrete batch plant, on-site water treatment and pontoon-casting basin.