June 9, 2016
Innovation of the Month: Stakeholder Partnering
States that establish stakeholder partnering groups find they enhance communication and trust between local and state agencies, helping them deliver local transportation programs more efficiently and effectively.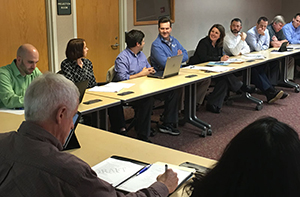 Stakeholder partnering groups meet regularly to identify program-level issues, review project development processes and work on solutions. They create a cooperative environment for reviewing project development compliance requirements and policies. They also provide a platform to initiate process enhancements and other ways to improve project delivery.
Successful stakeholder partnering requires three elements:
Representation of key stakeholders from local, state and federal agencies
Shared understanding of local issues
Tangible progress on those issues
See the Stakeholder Partnering Resource Library for information on developing stakeholder partnering efforts and enhancing Federal-Aid Highway Program project delivery processes. Resources include case studies, policy guidance, sample charters and training.
Innovation Network Now Complete
The national network of State Transportation Innovation Councils is complete, Federal Highway Administrator Gregory Nadeau told transportation leaders in a June 2 web conference. With the recent addition of Hawaii, "we now have a STIC in every state, the District of Columbia, Puerto Rico, the Virgin Islands and Federal Lands Highway," Nadeau said. "The network is not only critical to identifying and deploying innovation today, but it will continue to play that role in the future."
In the webcast, Delaware Transportation Secretary Jennifer Cohan discussed how the Delaware Department of Transportation fosters an innovative culture through staff development and implementation of new concepts such as the diverging diamond interchange and e-Construction. Chief Engineer Ed Hassinger talked about how the Missouri Department of Transportation works with internal and external stakeholders to harness innovation through its Innovations Challenge and Road to Tomorrow initiatives.
Indiana Showcases Innovative Bridge Project
State and local officials observed geosynthetic reinforced soil-integrated bridge system construction at a June 1 showcase in Noblesville, Indiana, hosted by the Hamilton County Highway Department, Indiana Local Technical Assistance Program and FHWA. Hamilton County built its first GRS-IBS bridge last year and has three more under construction. FHWA is providing technical assistance to the county throughout the project development and construction processes.