July 7, 2016
Innovation of the Month: Improving DOT and Railroad Coordination
The Every Day Counts innovation of the month for July is improving department of transportation and railroad coordination to enhance communication, expedite project delivery and reduce costs.
The Federal Highway Administration is encouraging the use of tools developed under the second Strategic Highway Research Program R16 project, including model agreements, sample contracts, training materials and best practices.
Nine states have institutionalized the use of practices to improve DOT and railroad coordination. Another six states and Washington, D.C., are piloting the innovation or preparing for full deployment.
May workshops in South Dakota and Pennsylvania enabled transportation department and railroad staff to review processes and discuss ways to improve coordination and communication. South Dakota workshop participants formed working groups to address issues such as creating state-specific agreement templates and up-to-date contact lists. Pennsylvania participants agreed to develop a process to review recent projects and determine future maintenance schedules.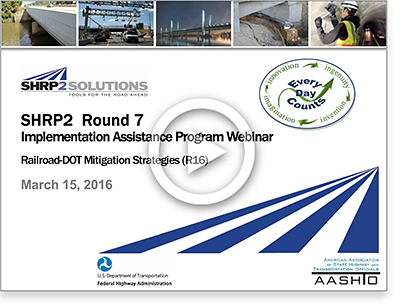 Watch
Railroad-DOT Mitigation Strategies
, a webinar on the SHRP2 R16 project and tools to help agencies and railroads work together on projects.
Contact Joseph Taylor of the FHWA Office of Infrastructure for information and technical assistance.
California and Michigan Explore e-Construction at Peer Exchange
A late June peer exchange enabled participants from the California and Michigan Departments of Transportation to exchange ideas and lessons learned on using e-Construction, a paperless construction administration delivery process. Michigan uses e-Construction on all state highway projects and is expanding its use to local projects. The peer exchange also provided an opportunity for FHWA Michigan Division staff to highlight the benefits of a pilot project to use tablets to support e-Construction.
Michigan Delivers I-75 Project With Design-Build
The first segment of the I-75 Corridor project in Oakland County, Michigan, will be delivered under a design-build project. Segment one will include reconstruction and realignment of I-75 from Coolidge Highway to South Boulevard, including the Square Lake Road and Adams Road interchanges in Troy, Auburn Hills and Bloomfield Township. The segment is part of an eight-segment project to reconstruct and add a high-occupancy vehicle lane to 18 miles of I-75 north of Detroit.
Ohio Bridge Project Reaches Milestone
The Ohio Department of Transportation held a "topping out" ceremony on June 27 to celebrate the completion of structural steel erection on the second new George V. Voinovich Bridge on I-90 in Cleveland. Crews used a crane to raise the final large steel beam—96 feet long and 112,475 pounds—over Abbey Avenue. The bridge, being delivered with the design-build technique, is expected to open to traffic by fall. The project is part of an effort to improve safety, reduce congestion and modernize interstate travel through downtown Cleveland.