July 28, 2016
Innovation of the Month: Improving DOT and Railroad Coordination
Master agreements are one of the tools the Federal Highway Administration is promoting to improve department of transportation and railroad coordination and expedite highway construction projects.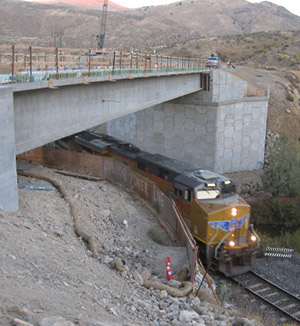 The Delaware Department of Transportation is developing master agreements with the seven railroad companies it works with to streamline the construction project process. The agency signed a maintenance agreement with Norfolk Southern Railway for railroad crossings in the pavement rehabilitation program.
The Idaho Transportation Department collaborated with the primary railroad companies operating in the state on a master agreement project. Secondary railroads plan to follow the agreement between the department and Union Pacific Railroad.
The Tennessee Department of Transportation has master agreements with CSX, Illinois Central Railway and Norfolk Southern Railway. Benefits of coordination include early identification of issues railroads may have with project plans and time savings on project development processes.
See the second Strategic Highway Research Program R16 project webpage for model agreements and other resources.
Local Agencies Participate in Arizona Stakeholder Partnering Meeting
What's involved in scoping a Federal-Aid Highway Program project was the topic of the Arizona Local Public Agency Stakeholder Council meeting July 14 in Phoenix. The meeting provided local agency representatives with an opportunity to ask questions about federally funded projects, express concerns and offer suggestions. Arizona Department of Transportation management attended the meeting to hear the discussion. The stakeholder partnering council meets quarterly to enhance communication among agencies.
Kentucky First Responders Learn Traffic Incident Management Techniques
Two national traffic incident management responder training courses on July 13 enabled first responders in Kentucky to learn techniques for safe, quick clearance of highway incidents. The Kentucky Transportation Cabinet and Kentucky Transportation Center at the University of Kentucky presented a course to 41 cadets at the Kentucky State Police Training Academy. The state police made traffic incident management part of the cadet training curriculum in 2015. FHWA and the Kentucky Transportation Center offered a course in partnership with the U.S. Army at Fort Knox. The 48 responders who attended represented law enforcement, firefighting, towing and transportation disciplines in the Fort Knox area.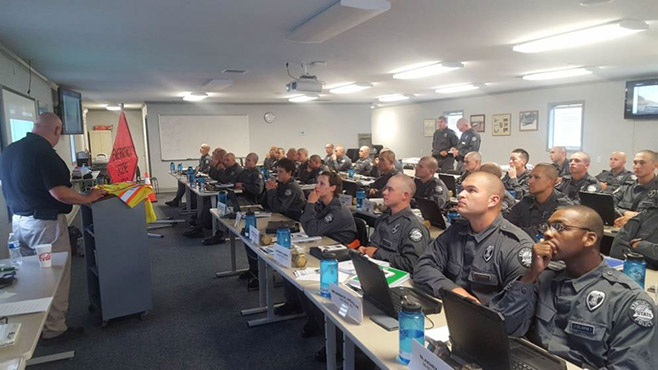 South Dakota Showcase Offers Up-Close Look at Bridge Construction
Nearly 90 people from 10 states learned about geosynthetic reinforced soil-integrated bridge system technology at an FHWA showcase July 12 in Spearfish, South Dakota. They listened to presentations on how to select and build GRS-IBS projects, then traveled to Sand Creek, Wyoming, to witness GRS-IBS construction on a project. "I am now confidently considering GRS-IBS as an alternate on my 90-foot bridge replacement," said one of the participants, who represented city, county, tribal, state and federal agencies and the private sector.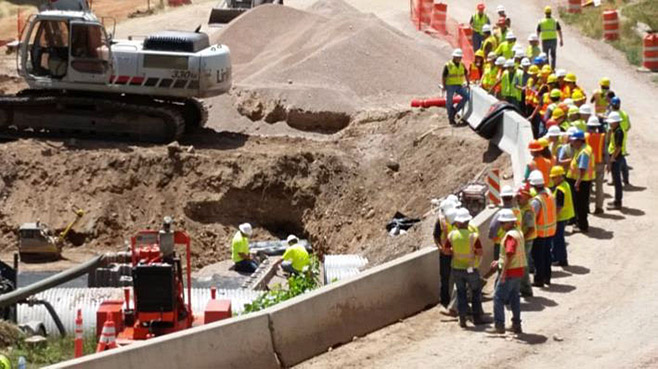 Washington Floating Bridge Wins Design-Build Award
The Washington State Department of Transportation's State Route 520 floating bridge and landings project won a 2016 merit award from the Design-Build Institute of America. The 1.5-mile-long bridge—constructed with the design-build project delivery method—is the world's longest floating bridge. It carries four lanes of traffic across Lake Washington and includes high-occupancy vehicle lanes, bike lanes, full shoulders and a pedestrian path. The bridge sits on 77 concrete platoons that float on the water and are secured by anchors to the lake bottom.
Wisconsin Builds First GRS-IBS on Local Road
Participants from more than 10 agencies observed smarter work zone strategies at a July 21 and 22 demonstration organized by the Wisconsin Department of Transportation and FHWA. The Wisconsin DOT is using a queue warning system and dynamic lane merge on construction projects in Milwaukee and Edgerton. In addition to demonstrating the systems, project team members discussed challenges, success stories and lessons learned using smarter work zone strategies.