October 6, 2016
Innovation of the Month: Ultra-High Performance Concrete Connections
The Every Day Counts innovation of the month for October is ultra-high performance concrete connections. UHPC is a steel fiber-reinforced material that improves durability and simplifies connection details and construction when using prefabricated bridge elements on projects.
The Federal Highway Administration began promoting UHPC as an option for connecting prefabricated bridge components in the third round of EDC. UHPC connections will continue as an EDC-4 innovation in 2017 and 2018.
Transportation departments in 18 states and Washington, D.C., are using UHPC connections for prefabricated bridge elements on construction projects. In another three states, UHPC connections are now a standard practice to improve durability and accelerate construction on bridge projects.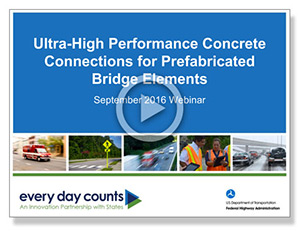 View the EDC-4 orientation
webinar
on ultra-high performance concrete connections.
Contact Mark Leonard of FHWA's Resource Center and Benjamin Graybeal of FHWA's Turner-Fairbank Highway Research Center for information, technical assistance and training on UHPC connections.
Colorado to Roll Out Pathfinder in 2017
The Colorado Department of Transportation plans to implement the Pathfinder program in the 2017 winter season to improve its road weather management program. Pathfinder is an approach FHWA will promote in the fourth round of Every Day Counts as part of the road weather management—weather-savvy roads innovation. Pathfinder enables state DOTs, the National Weather Service and private-sector providers of weather information to collaborate to offer consistent messages for travelers on adverse weather and road conditions. The Colorado DOT held a Pathfinder coordination meeting on September 27 with its weather partners and FHWA.
Washington Plans Innovations and Partnerships in Transportation Conference
The Washington State Department of Transportation will use State Transportation Innovation Council Incentive program funds to help fund its Innovations and Partnerships in Transportation conference on December 1 in Tacoma. This year's conference will focus on building partnerships and understanding of how workforce development and practical solutions play a vital role in shaping the transportation infrastructure and the communities it serves.
Learn About New Interactive Highway Safety Design Model
Version 12.0.0 of FHWA's Interactive Highway Safety Design Model, a suite of software analysis tools that support data-driven safety analysis, is available for free download. FHWA will present a webinar on the newest capabilities of IHSDM from 1 to 2:30 p.m. ET on October 20. Topics include how the tool's Crash Prediction Module can be used to forecast crash frequency for two-lane and multilane rural highways, urban and suburban arterials, freeways, ramps and interchanges. Webinar registration is open now.
Be a Road Diet Champion
FHWA is conducting a #RoadDiets social media campaign to generate interest in roadway reconfiguration, a low-cost strategy to improve safety for all road users. Here's how it works:
Print a sign with the hashtag #RoadDiets.
Go to a road that's been put on a diet and—on the side of the road, safely away from traffic—snap a selfie with the sign.
Post the photo on Facebook and Twitter and include #RoadDiets in your text, along with your state or locality.
Contact Becky Crowe of the FHWA Office of Safety when you post your photo.