October 20, 2016
Innovation of the Month: Ultra-High Performance Concrete Connections
Using ultra-high performance concrete connections on projects creates a simple, strong and durable connection that is advancing the use of precast components.
The Delaware Department of Transportation is using UHPC to connect precast beams on a project to build a bridge over a salt water conveyance channel in the Prime Hook National Wildlife Refuge. The agency is also connecting precast bridge deck panels with UHPC on a project on I-95 over Route 7.
The Idaho Transportation Department is scoping three bridge replacement projects for 2017 that will incorporate UHPC. On two projects, UHPC will be used to make connections between deck bulb-tee girders, which will facilitate the construction of prefabricated bridge elements. The third project will use UHPC to make connections between precast elements.
The Vermont Agency of Transportation is using UHPC connections for the first time on a bridge project in Waitsfield. Another project, now at the design stage, is planned for 2017 construction in Ludlow. The agency will use UHPC for the closure pours between precast bridge elements.
View an interactive map that shows where UHPC has been used on transportation projects in the United States and Canada.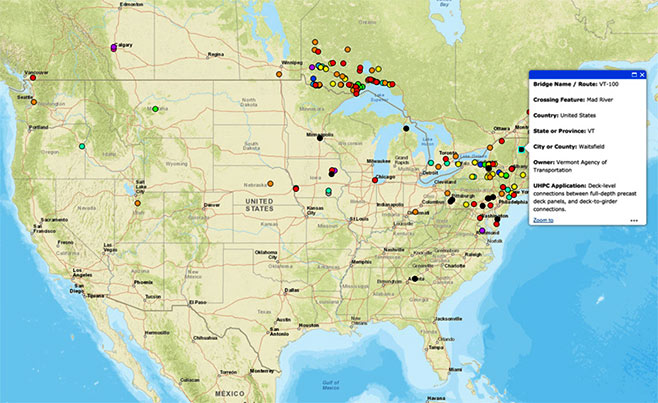 Colorado Kicks Off Planning and Environmental Linkages Study
The Colorado Department of Transportation provided elected officials and key stakeholders an opportunity to tour the I-25 corridor between Colorado Springs and the south Denver metro area and identify areas of concern. The tour marked the beginning of a 24-month Planning and Environmental Linkages Study. In addition to using the planning and environmental linkages process to identify immediate and longer-term solutions for this segment of I-25, the Colorado DOT is exploring early actions to provide spot safety and mobility improvements, such as emergency pull-off lanes, temporary ramp meters and variable speed limits. Variable speed limit systems are part of EDC's smarter work zones innovation.
New Mexico Holds Road Diet Guide Workshops
The New Mexico Department of Transportation conducted workshops on the Federal Highway Administration's Road Diet Informational Guide and the New Mexico Road Diet Guide for NMDOT staff, consultants and local planning organizations in Las Cruces and Albuquerque. The FHWA New Mexico Division Office and FHWA Office of Safety supported NMDOT in delivering the training, which introduced participants to the road diets concept and its safety benefits and provided case studies and best practices. NMDOT staff also outlined next steps for implementing road diets in New Mexico.
Ohio River Bridges Project Reaches Milestone
A major portion of the $2.3 billion Ohio River Bridges Project, a joint effort by Indiana and Kentucky, is nearing the finish line. The Kennedy Bridge, carrying Southbound I-65 over the Ohio River, has re-opened after a major rehabilitation. When the Downtown Crossing portion is complete, the Kennedy Bridge will carry six lanes of I-65 South traffic and the new, adjacent Abraham Lincoln Bridge will carry six lanes of I-65 North traffic. The Downtown Crossing, a design-build project, is expected to be complete in December.