October 27, 2016
Innovation of the Month: Ultra-High Performance Concrete Connections
Transportation agencies across the country are adding ultra-high performance concrete connections (UHPC) to their toolboxes to accelerate bridge construction and provide better long-term performance.
The Iowa Department of Transportation, which has used UHPC connections on several bridge projects, is developing standards for bridges with adjacent concrete box girders with UHPC connections between the girders. The agency is also studying the constructability and performance of an UHPC overlay applied on a deteriorated bridge deck in Buchanan County.
The Maine Department of Transportation is using full-depth precast concrete deck panels with UHPC connections on the Western Avenue Bridge project in Fairfield. The agency will incorporate experience gained on the project as it develops standard designs, details and specifications for precast deck panels with UHPC connections.
The Massachusetts Department of Transportation plans to use UHPC closure pours on two bridge projects: Route 85 over the Assabet River in Hudson and Rochester Road over the Weweantic River in Carver-Middleborough. The agency is developing UHPC standard details for inclusion in its Bridge Manual.
Read FHWA's Ultra-High Performance Concrete: A State-of-the-Art Report for the Bridge Community to learn about research and deployment of UHPC in transportation infrastructure.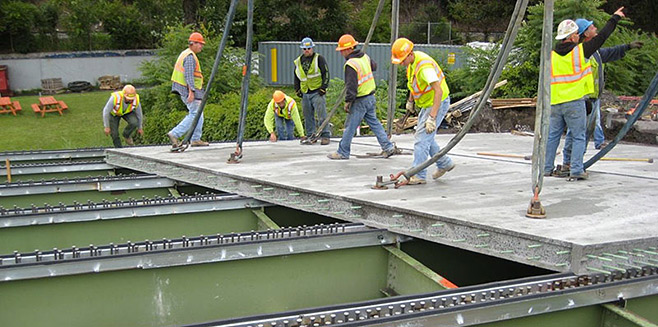 FHWA Launches EDC-4 Summits
The Federal Highway Administration kicked off a series of seven regional summits on the fourth round of Every Day Counts innovations. Transportation professionals from Delaware, Kentucky, Maryland, New Jersey, Pennsylvania, Virginia, Washington, D.C., West Virginia and Federal Lands Highway attended the first summit on October 18 and 19 in Baltimore, Maryland. The summit introduced the 11 EDC-4 innovations and set the stage for State Transportation Innovation Councils to review and choose innovations to implement over the next two years.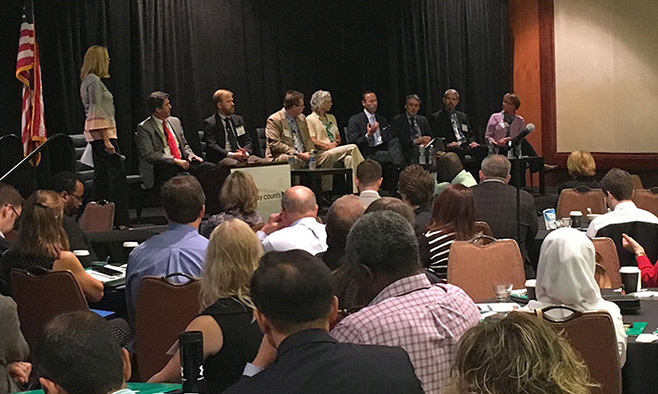 Innovation Topic of Indiana County Bridge Conference
Every Day Counts innovations and asset management were hot topics at Indiana's County Bridge Conference, held October 21 at Purdue University. The meeting enabled officials responsible for Indiana's local bridges to discuss ways to preserve bridges effectively. Indiana lawmakers passed legislation last year making additional state funds available to counties that develop asset management plans for their bridges. The Indiana Local Technical Assistance Program and Indiana Association of County Engineers and Supervisors sponsored the conference.
Iowa Celebrates Local Bridge Opening
An October 26 ribbon-cutting ceremony celebrated the opening of the Catt Bridge in Buchanan County, Iowa. The project replaced a closed structure with a new bridge featuring a glued laminated timber—or glulam—superstructure supported on a geosynthetic reinforced soil abutment. The U.S. Forest Service Forest Products Laboratory and Iowa State University Institute for Transportation developed the innovative design of the superstructure and GRS abutment. Buchanan County work crews built the bridge. FHWA provided technical assistance on design and construction.
National STIC Meeting Features Massachusetts Success Stories
The national network of State Transportation Innovation Councils "is the single most important factor in creating a permanent culture of innovation in the transportation sector," Federal Highway Administrator Gregory Nadeau told transportation leaders in an October 12 webcast. The webcast featured public agency and private sector members of the Massachusetts STIC talking about how the council is building a culture of innovation in their state. Participants also viewed a new video on the benefits of STIC involvement.
Oklahoma Participates in Asphalt Project
The FHWA Mobile Asphalt Testing Trailer is collaborating with the Oklahoma Department of Transportation on an Increased In-Place Density Initiative project in Wakita. The FHWA-sponsored initiative enables state highway agencies to experiment with construction techniques and technologies to increase the in-place density of asphalt, which can result in more durable pavements. The Oklahoma DOT is investigating the use of additional asphalt binder, an oscillatory compactor and warm-mix asphalt technology to increase pavement durability.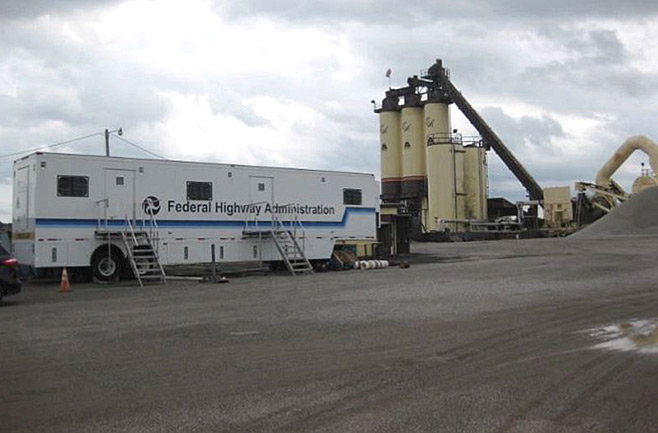 Oklahoma Hosts Road Diet Workshops
Three FHWA workshops helped participants in Oklahoma understand the safety, low-cost and quality-of-life benefits of road diets and how to use roadway reconfiguration in their communities. The workshops were hosted by the Association of Central Oklahoma Governments on October 18, the Indian Nations Council of Governments on October 19 and the Oklahoma Department of Transportation on October 20. The 106 participants represented urban and rural communities, planning organizations, tribal governments, private industry, the Oklahoma DOT and FHWA.
Webinar Makes Business Case for Traffic Incident Management Programs
An FHWA webinar enabled more than 120 participants to learn about a four-phase process for developing an effective business case for traffic incident management programs. Participants in the October 13 webinar also heard presentations on how the Oregon and Maryland Departments of Transportation made the business case for their respective programs, including the challenges the agencies faced in establishing their programs and the benefits they experienced.