December 1, 2016
Innovation of the Month: Improving Collaboration and Quality Environmental Documentation
The Every Day Counts innovation of the month for December is improving collaboration and quality environmental documentation on transportation construction projects.
This innovation includes using best practices for implementing quality environmental documentation, or IQED, and using the Federal Highway Administration's eNEPA tool or other electronic documentation and collaboration systems to streamline environmental reviews.
Strategies to implement quality environmental documentation are now a mainstream practice in 11 states and Washington, D.C. Another 16 states are piloting the use of IQED principles on environmental documents or preparing for full deployment of IQED.
Conducting National Environmental Policy Act review processes electronically is a standard practice in four states, while another eight states are demonstrating and assessing eNEPA or another documentation and collaboration system.
Contact Carolyn Nelson of the FHWA Office of Project Development and Environmental Review for information, technical assistance and training on using IQED principles.
Contact Kreig Larson of the FHWA Office of Project Development and Environmental Review for assistance and training on using the eNEPA tool.
Watch a video on how the eNEPA portal enables collaborative interagency reviews that can help save time and money on and improve the quality of environmental documents.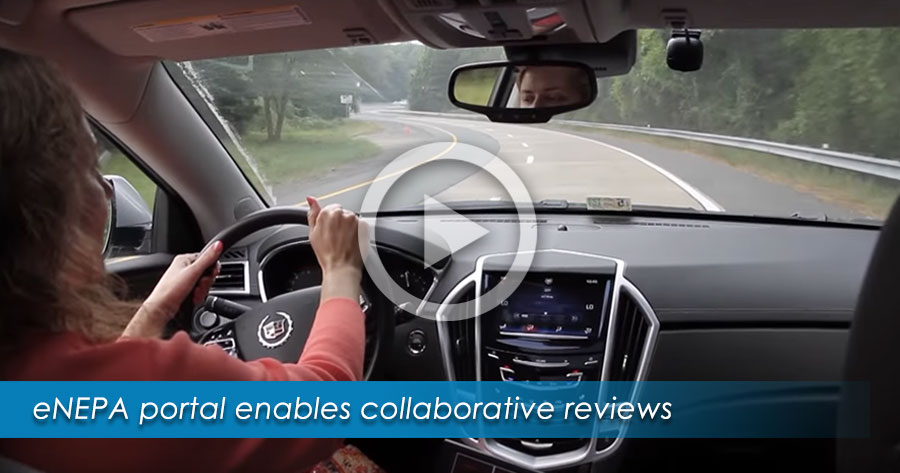 California Project Features Every Day Counts Innovations
Work is scheduled to start this fall on the Truckee River Bridge and Dollar Creek Trail project in Tahoe City, California. The project will use several Every Day Counts innovations, including accelerated bridge construction, roundabouts, road diets, the Safety Edge paving technique and use of in-lieu fee and mitigation banking. The project is designed to improve safety and mobility for all travel modes. Federal Lands Highway collaborated with more than 20 agencies on the context-sensitive design for the project, which received Federal Lands Access Program and local funds.
Interchange With Roundabouts Completed in Colorado
Colorado officials marked the completion of a new interchange at I-25 and Dillon Drive in Pueblo with a ribbon-cutting ceremony on November 18. The interchange features new northbound and southbound ramps, a new bridge and roundabouts at the ramp terminals. Construction of the interchange–called the "new gateway to the city from the north"–began in 2015. Pueblo's Department of Public Works managed the project with assistance from the Colorado Department of Transportation.
Idaho Builders Learn About Innovative Bridge Technology
Idaho is spreading the word on geosynthetic reinforced soil-integrated bridge system technology. Idaho's Local Highway Technical Assistance Council held a workshop on November 16 and 17 to help local road builders learn about the technology. The Idaho Transportation Department is also sharing plans, specifications and cost data for a bridge project now under construction with local governments in the state so they can incorporate the information into similar projects.
Indiana Workshop Explores Automated Traffic Signal Performance Measures
The Indiana Department of Transportation and Purdue University hosted an FHWA workshop on automated traffic signal performance measures for equipment vendors, software providers and consultants in Indianapolis on November 10. FHWA staff discussed using automated traffic signal performance measures to modernize traffic signal management and asked for input on how to accelerate use of the measures. The workshop included a technology showcase.
Iowa Shares e-Construction Experience at Peer Exchange
Iowa Department of Transportation staff shared their perspectives on technologies that support paperless highway construction projects with Ohio Department of Transportation staff at an e-Construction peer exchange on November 8 and 9 in Ames. A leader in e-Construction implementation, the Iowa DOT offered lessons learned and best practices on software, electronic workflows, digital signatures and mobile devices.
Oklahoma Safety Event Highlights Traffic Incident Management
Eastern Oklahoma County Technology Center and FHWA staff discussed Oklahoma's traffic incident management responder training program at the Tribal Safety Champions Workshop on November 16 in Oklahoma City. They encouraged tribes to attend training sessions on techniques to clear traffic incidents safely and quickly. Other presentations highlighted the work of tribal safety champions, Oklahoma Department of Transportation safety priorities and Every Day Counts innovations. Representatives of tribal nations, public agencies and private industry attended the workshop, hosted by the Southern Plains Tribal Technical Assistance Program Center and Southern Plains Transportation Center.
Pennsylvania Considers Statewide Traffic Incident Management Program
More than 100 emergency response professionals discussed development of a statewide traffic incident management program at Pennsylvania's Traffic Incident Management Summit on November 16 in Harrisburg. Summit presentations and workshops focused on formalizing an organizational approach and business processes through which Pennsylvania's emergency responders can team up for the safety and operational benefits of both travelers and responders.
Washington Recognizes Local Adaptive Signal Control Technology Project
The city of Puyallup, Washington, won the 2016 Best Special Project Award for its State Route 161/Meridian and 2nd/3rd Street safety improvement project. The award is part of the Awards of Excellence program, a collaboration between the Washington State Department of Transportation Local Programs Division and FHWA to recognize local projects. The project included installation of an adaptive signal control technology system to cut collisions and improve air quality and travel times. On parts of the corridor, the project has reduced travel time by up to 28 percent, stops by up to 65 percent and traffic delay by more than 67 percent.