December 22, 2016
Innovation of the Month: Improving Collaboration and Quality Environmental Documentation
Through Every Day Counts (EDC), transportation agencies are using tools and techniques to improve collaboration and quality environmental documentation on construction projects.
The Alaska Department of Transportation and Public Facilities is working on an environmental procedures manual that incorporates principles to improve quality environmental documentation (IQED). IQED principles include developing clear documents that tell the project story, keeping documents concise, and ensuring they meet legal requirements.
At Federal Lands Highway, applying IQED principles on all projects helps keep environmental documentation brief while ensuring legal sufficiency. An environmental assessment document for a project to improve Raphune Hill Road and Route 381 in the U.S. Virgin Islands is 32 pages and incorporates visualizations to help tell the project story.
The Washington State Department of Transportation uses several tools to improve the quality of environmental documentation. They include a reader-friendly environmental toolkit, Environmental Manual, quality assurance framework, and library of National Environmental Policy Act document examples.

Attend Workshop on Innovation Councils
If you're attending the Transportation Research Board Annual Meeting in Washington, DC, add the free workshop on State Transportation Innovation Councils: Leading the Way in an Era of Rapid Change to your schedule. The workshop—January 8, 2017, from 1:30 to 4:30 p.m. ET—will explore the elements needed for a State Transportation Innovation Council (STIC) to succeed. Discussions will cover processes to evaluate innovations, plans to build partnerships, metrics to quantify success, and efforts to create a culture of innovation. Information from the workshop will be used to develop innovation tools and training for the transportation community.
Arizona Kicks Off Every Day Counts Round Four With Workshop
The Arizona Council for Transportation Innovation held its first workshop on December 14 on the nine innovations in EDC round four (EDC-4) it plans to pursue over the next 2 years. Nearly 60 members of the teams formed to advance the innovations attended the workshop to begin setting goals and developing the framework for an implementation plan. Participants represented the Arizona Department of Transportation, metropolitan planning agencies, private industry, Federal Highway Administration, and other agencies.
Accelerated Bridge Construction Saves Time in Oregon
Using accelerated bridge construction saved months of construction time on a project to replace the Ochoco Creek Bridge in Prineville, OR. The existing bridge was removed and the new bridge—constructed next to the old bridge—was moved into place with slide-in bridge construction during a 3-week closure. Using conventional construction would have required closing the bridge for more than 3 months.
Washington Chooses Every Day Counts Innovations
The Washington STIC chose four EDC-4 innovations as priorities during its December 15 meeting. The council plans to pursue collaborative hydraulics: advancing to the next generation of engineering (CHANGE), e-Construction and partnering: a vision for the future, road weather management—weather-savvy roads, and safe transportation for every pedestrian (STEP). The council also plans to request STIC Incentive program funding for a project on using ground-penetrating radar to determine the in-place density of asphalt mixtures.
Wisconsin Video Demonstrates Bridge Innovation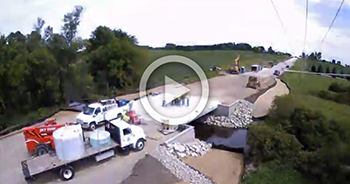 A new time-lapse
video
from the Wisconsin Department of Transportation (WisDOT) demonstrates the use of
geosynthetic reinforced soil-integrated bridge system
(GRS-IBS) technology to replace a bridge on County Highway S over Shaw Brook in Dodge County. WisDOT and Dodge County received an
Accelerated Innovation Deployment (AID) Demonstration
program award to for two GRS-IBS bridge projects, the first use of the technology on a local highway in the State.
Wisconsin Opens First Diverging Diamond Interchange
WisDOT opened the State's diverging diamond interchange to improve traffic flow and safety at the I-39/90 and Wisconsin 11 interchange near Janesville. The interchange is part of the
I-39/90 Expansion Project, which received AID Demonstration funds to use a traffic queue warning system, a smarter work zone strategy, to increase safety and mobility on bridge construction projects in Stevens Point and Edgerton.
Partners Study Signage System to Cut Crashes on Curves
A safety study will build on a Highways for LIFE Technology Partnerships project that found that a solar-powered traffic signage system was effective at reducing speeds and crash rates on horizontal curves. The new study is analyzing changes in speed and driving performance based on activation methods, flash patterns, and flash frequency rates of the system's LED-illuminated chevrons. The goal is to determine the optimal system setting to cut crashes. FHWA, Pennsylvania State University, and Traffic and Parking and Control Co. are partnering on the research.