December 29, 2016
Get Ready for Every Day Counts Round Four
Fall summits gave transportation professionals a forum to learn about the innovations in round four of Every Day Counts (EDC-4), the Federal Highway Administration's partnership with stakeholders to rapidly deploy innovations.
The summits—held in California, Florida, Maryland, Minnesota, New York, Oregon, and Texas—introduced participants to the 11 technologies and practices FHWA will promote in 2017 and 2018 through EDC-4. Interactive working sessions provided a detailed look at the innovations and how the transportation community is using them.
Participants met in State caucuses to plan which EDC-4 innovations to pursue over the next 2 years. They took their recommendations to State Transportation Innovation Councils (STICs), which enable stakeholders in each State to collaborate on innovation deployment.
"You bring a commitment to innovation that's really changing the way transportation is delivered to the American people," Federal Highway Administrator Gregory Nadeau told summit participants. "You serve enthusiastically on the front lines of innovation deployment and make a measureable difference in each of your States."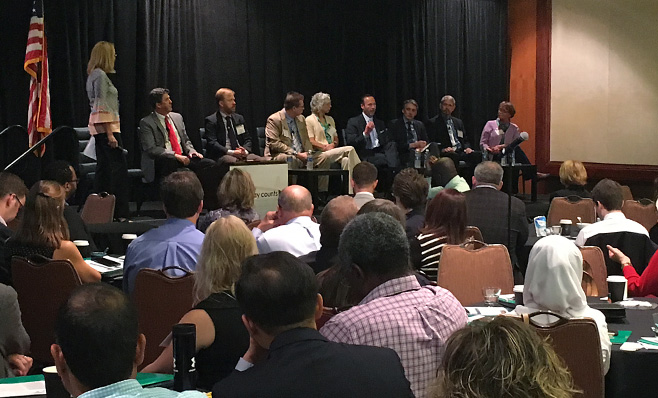 Learn About Innovation
Stop by the EDC exhibit at the Transportation Research Board Annual Meeting—January 8 to 12, 2017, in Washington, DC—to see how proven innovations are helping the transportation community enhance America's highway system. The exhibit will showcase the 11 innovations FHWA is promoting in EDC-4, along with the STIC Incentive and Accelerated Innovation Deployment Demonstration programs to provide deployment resources.
Also plan to attend sessions related to EDC-4, including a free workshop on State Transportation Innovation Councils: Leading the Way in an Era of Rapid Change. The workshop—January 8 from 1:30 to 4:30 p.m. ET—will explore the elements needed for a STIC to succeed. Other sessions and exhibits will highlight safe transportation for every pedestrian (STEP), pavement preservation: how, weather-savvy roads, data-driven safety analysis, and ultra-high performance connections for prefabricated bridge elements.
Iowa Project Receives National Recognition
An Iowa Department of Transportation project to develop a self-cleaning box culvert design is one of the high-value research projects selected by the American Association of State Highway and Transportation Officials for a 2016 Sweet Sixteen Award. The project received STIC Incentive program funds to develop technical guidance and training on implementing self-cleaning culvert technology in Iowa. The Sweet Sixteen projects will be featured at a poster session at the TRB Annual Meeting.