February 9, 2017
Innovation of the Month:
Using Data to Improve Traffic Incident Management
The Federal Highway Administration offers resources to help States and their partners deploy the innovations in Every Day Counts round four (EDC-4).
FHWA formed deployment teams for each EDC-4 innovation to provide the transportation community with information, technical assistance, and training, including workshops and peer exchanges. See the EDC-4 contacts for experts to call for assistance.The Every Day Counts (EDC) innovation of the month for February is using data to improve traffic incident management (TIM). Increasing the amount, consistency, and quality of TIM data collection supports development of performance measures for evaluating and improving traffic incident response.
Traffic incidents put travelers' and emergency responders' lives at risk and cause a quarter of all traffic delays. Resulting congestion can lead to secondary crashes. TIM programs to coordinate response among agencies are reducing the duration and impact of incidents.
In the EDC fourth round (EDC-4), the Federal Highway Administration is promoting the use of low-cost, off-the-shelf technologies to collect data to help agencies enhance TIM programs.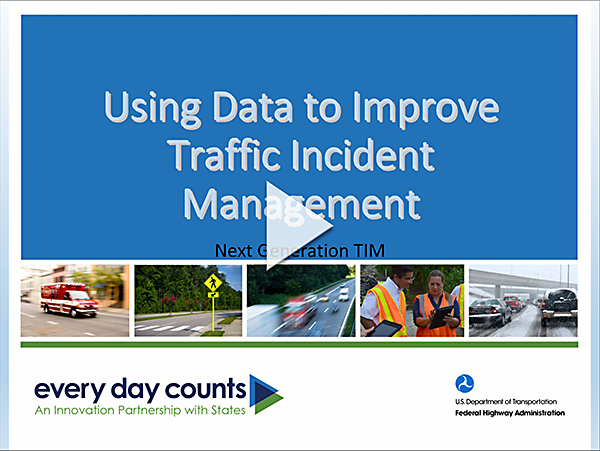 FHWA is also encouraging adoption of three key TIM performance measures: length of time travel lanes are closed, length of time responders are on an incident scene, and number of secondary crashes.
Better data collection enables agencies to demonstrate program effectiveness through quantified safety and economic benefits and improve program performance, resource management, and planning.
View an EDC-4 webinar on using data to improve TIM.
Contact Paul Jodoin of the FHWA Office of Operations for information and technical assistance.
Demonstration Grant Funds Arizona Bridge Monitoring
Arizona Department of Transportation (ADOT) and FHWA staff made a site visit to I-15 Virgin River Bridges 1, 5, and 7 to observe the first phase of structural health monitoring on the three structures. ADOT received an AID Demonstration grant for the monitoring project. After workers installed strain gauges near areas of the bridges with fatigue cracks, they used a dump truck to perform load tests to calibrate bridge computer models. The load testing implementation phase was successful, and ADOT plans to start the second phase of the monitoring project in March. The bridges are on a heavily traveled Arizona corridor that connects Nevada and Utah.
Move Over Campaign Launch Features Responder Training
A February 7 event in Lakewood, CO, kicked off a multistate Move Over campaign. Colorado, Nevada, North Dakota, South Dakota, Utah, and Wyoming are participating in the campaign, which calls for drivers approaching emergency vehicles to change lanes or slow down. The campaign launch included a TIM training course for first responders taught by Colorado Department of Transportation (CDOT) and Colorado State Patrol staff. Responders had an opportunity to participate in field training that included crash scene and traffic control setups, safe vehicle positioning, and efficient ways to move disabled vehicles.
Colorado to Apply Data-Driven Safety Analysis Tools
CDOT plans to address a rise in traffic fatalities by boosting public awareness of distracted driving and expanding the use of data-driven safety analysis tools to better target highway investments. CDOT will work with the Colorado State Patrol, National Highway Traffic Safety Administration, and FHWA on the effort. CDOT reported 605 traffic fatalities in 2016, up from 545 in 2015 and 488 in 2014. CDOT reported that fatalities involving drivers not wearing seatbelts, pedestrians, and motorcyclists increased, but an underlying issue was a marked increase in distracted driving.
Georgia Holds Megaregion Peer Exchange
FHWA facilitated a peer exchange on freight and megaregions on January 31 and February 1 in Atlanta, GA. The event, hosted by the Atlanta Regional Commission, built on a 2013 workshop on freight challenges and regional coordination needs in the Piedmont Atlantic Megaregion. Participants discussed the EDC regional models of cooperation effort and multijurisdictional coordination in megaregions. Participants included representatives of State transportation departments, metropolitan planning organizations, and industry.
Minnesota Deploys Smarter Work Zone System
The Minnesota Department of Transportation (MnDOT) deployed a variable downstream speed notification system on an I-94 pavement project in St. Paul and Maplewood during the 2016 construction season. The system—one of the smarter work zone technology strategies recommended in EDC round three—notifies drivers of downstream traffic speeds to better manage speeds and reduce crashes when work zone congestion develops. MnDOT plans to use the system again in the 2017 construction season. The University of Minnesota will analyze data from the system to evaluate its effectiveness in cutting work zone crashes.
Innovative Method Used to Replace Oklahoma Bridge
The Kickapoo Tribe of Oklahoma and Bureau of Indian Affairs collaborated with Lincoln County, OK, on a project to replace the Yates Bridge on County Road 960 near Wellston. Crews used geosynthetic reinforced soil-integrated bridge system technology on the project to reduce costs and construction time. The new bridge was dedicated in a ribbon-cutting ceremony in December 2016.
See Accelerated Bridge Construction in Action
A showcase on March 22 and 23 in Topock, AZ, will enable transportation professionals to observe accelerated bridge construction. The Arizona Department of Transportation and Mohave County will use prefabricated bridge elements and systems to build a structure over the Sacramento Wash in 96 hours or less. The project received AID Demonstration program funds to use innovation. Contact Michelle Beggs for information on the showcase, which will include a workshop and project tour.