February 23, 2017
Innovation of the Month:
Using Data to Improve Traffic Incident Management
Through Every Day Counts (EDC) round four, the Federal Highway Administration is promoting the use of low-cost, off-the-shelf technologies to collect data to improve traffic incident management (TIM).
TIM-related data can be collected with existing advanced transportation management systems, computer-aided dispatch software, electronic crash reporting systems, and smart devices. Some transportation agencies already collect data with each of these systems.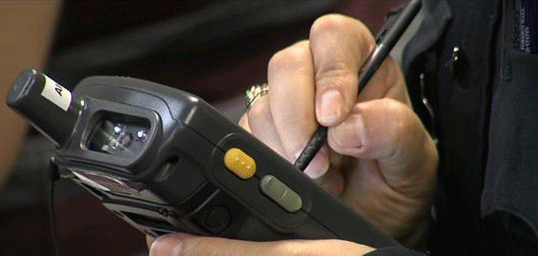 The Arizona Department of Transportation, for example, modified its Traffic and Criminal Software—or
TraCS
—system at a low cost to collect data for three key TIM performance measures: roadway clearance time, incident clearance time, and number of secondary crashes.
Tennessee uses a locally developed electronic crash reporting system that collects data for two of the standard performance measures.
Visit FHWA's TIM Knowledgebase for tools and resources on practices and performance measurement.
Traffic Incident Management Topic of Alaska Conference
FHWA staff discussed the benefits of TIM responder training at the Alaska Fire Chiefs Association Leadership Summit on February 9 in Juneau. Several of the 60 fire chiefs attending the event noted that after they participated in TIM training, the result was quicker and safer clearance of traffic incidents in their areas. The fire chiefs encouraged colleagues from other localities to pursue TIM training for first responders.
Colorado Peer Exchange Explores Warm-Mix Asphalt
Representatives of six State departments of transportation, private industry, and FHWA participated in a warm-mix asphalt (WMA) peer exchange on February 14 and 15 in Colorado. State DOT staff from Colorado, Florida, Maryland, Nevada, Ohio, and Pennsylvania presented overviews of their experiences with WMA implementation plans, challenges, and success stories. FHWA and asphalt industry representatives also provided perspectives on WMA. The event concluded with breakout sessions to discuss ways to promote the benefits of using WMA.
Texas Uses Design-Build on Toll Lane Project
A February 28 ribbon-cutting ceremony is planned for a toll lane project on State Highway 71, a major corridor that connects drivers to the Austin-Bergstrom International Airport, Bastrop, and other central Texas communities. The Texas Department of Transportation is using the design-build contracting method to deliver the project, which adds a toll lane in each direction on SH 71. The purpose of the project is to enhance safety and reduce congestion on the corridor. The new lanes are designed to offer a free-flowing and reliable bypass route for through traffic.