March 9, 2017
Innovation of the Month:
Road Weather Management—Weather-Savvy Roads
The Every Day Counts effort on road weather management—weather-savvy roads focuses on two strategies with proven benefits. Agencies can choose one or both solutions to improve management of the transportation system when weather conditions are bad.
The Pathfinder process enables transportation departments, the National Weather Service, and private weather service providers to collaborate on clear, consistent road weather messaging. It provides cohesive weather impact information that helps drivers make better travel decisions. Ultimately, it saves lives and property and minimizes the impact of weather events.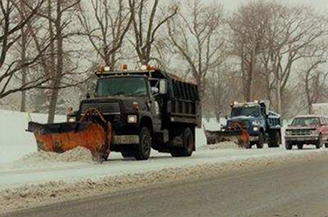 Integrating mobile observations is a cost-effective way to gather road weather observations using existing fleet vehicles. Vehicle-based technologies provide agencies with data to manage transportation systems before the negative impacts of road weather occur. Maintaining a high level of service on roads can reduce crashes and keep traffic moving smoothly.
See FHWA's Road Weather Management Web site for information, training, and upcoming events.
Arizona Holds Incident Management Data Workshop
A National Cooperative Highway Research Program workshop hosted by the Arizona Department of Public Safety on February 23 enabled emergency responders to learn about leveraging data to improve traffic incident management (TIM). The workshop supports the EDC-4 effort on using data to improve TIM. Representatives of Arizona TIM disciplines joined staff from the California and Minnesota Departments of Transportation and Texas law enforcement agencies to discuss using data to improve communication and efficiency in the TIM process.
Kentucky Firefighters Seek Incident Management Training
An FHWA exhibit at the 2017 Bryant Stiles Officers School on February 25 and 26 in Owensboro, KY, enabled firefighters to learn about TIM responder training on techniques to clear traffic incidents safely and quickly. After visiting the exhibit, 14 fire departments across Kentucky requested TIM training for their local first responders. Since 2013, 5,734 first responders in Kentucky have been trained in TIM techniques, including 2,646 from fire and rescue services.
Agencies Review Progress on Integrated Mobile Observations in Nevada
Staff from the Minnesota, Michigan, and Nevada Departments of Transportation are in Reno, NV, this week to discuss progress on their Integrated Mobile Observations Project. The agencies are deploying vehicle-based technology to collect road weather data, and FHWA is working with them to document lessons learned and strategies that can be applied in the EDC-4 effort on road weather management—weather-savvy roads. This week's meeting includes a site visit to observe field tests of data collection with roadside units and on-board units in fleet vehicles.
New Mexico Agencies Explore Innovative Contracting
Technical staff members from local and tribal agencies in the Albuquerque, NM, area now have the skills to deliver highway projects using the construction manager/general contractor (CM/GC) method. They participated in FHWA's 2-day interactive workshop on CM/GC, which enabled them to learn when, where, and why to use the delivery method to save time and money on projects. Several participants reported they plan to apply CM/GC in their agency programs in the future.
Learn About Measuring Access to Opportunity
A new resource from the Governors' Institute on Community Design can help transportation professionals advance community connections and multimodal performance measures. The Why and How of Measuring Access to Opportunity: A Guide to Performance Management describes the data, tools, and methodologies agencies need to integrate access to opportunity measurements into planning and investment decisions. A recorded webinar provides an overview of the guide.
EDC Innovations Topic of Transportation Events
FHWA speakers are spreading the word on transportation innovation at conferences and meetings across the country. Topics at the Institute of Transportation Engineers/International Municipal Signal Association Spring Conference in Phoenix, AZ, on March 1 and 2 included data-driven safety analysis and high-friction surface treatments.
Presentations at the Illinois Transportation and Highway Engineering Conference highlighted EDC-4 innovations, including ultra-high performance concrete connections for prefabricated bridge elements. About 1,000 transportation professionals attended the event on February 28 and March 1 at the University of Illinois Urbana-Champaign.
FHWA staff discussed EDC-4 innovations, the role of State Transportation Innovation Councils, and the Accelerated Innovation Deployment Demonstration program with the Iowa Highway Research Board at a February 24 meeting. FHWA staff spoke about "Innovation—A Journey in Partnership," innovation deployment assistance programs, and e-Construction at the Annual Maryland Asphalt Association Paving Conference on March 1 in Baltimore.