March 16, 2017
Innovation of the Month:
Road Weather Management—Weather-Savvy Roads
Pathfinder is one of the road weather management—weather-savvy roads solutions the Federal Highway Administration encourages States to deploy during Every Day Counts round four (EDC-4).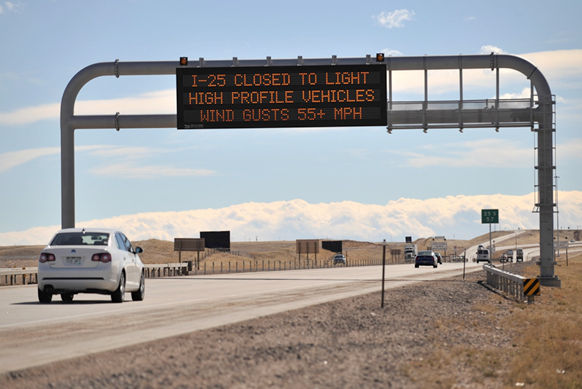 Pathfinder is a collaborative process involving the National Weather Service, departments of transportation, and private sector weather service providers to disseminate road weather information to the traveling public. The goal of this low-cost solution is to help drivers make safe and efficient travel decisions during weather events. Utah is one of several States using the Pathfinder process to deliver messages via variable message signs about weather events such as snow, freezing rain, and high winds. A Utah study of snow events found a 40 percent reduction in vehicle miles traveled, indicating that concise, consistent messaging works
See Collaboration Across the Road Weather Enterprise: The Pathfinder Project for guidance on implementing the Pathfinder process and more State DOT examples.
Arizona Hosts Peer Exchange on Traffic Incident Management
A March 10 peer exchange brought leaders of organizations involved in emergency response in 13 western States together in Phoenix, AZ, to discuss opportunities to expand the reach of traffic incident management (TIM) responder training. FHWA convened the meeting to enable representatives of emergency medical, fire, police, public works, transportation, and towing organizations to exchange best practices and outline strategies for engaging partners in TIM programs and training. Participants came from Alaska, Arizona, California, Colorado, Hawaii, Idaho, Montana, Nevada, New Mexico, Oregon, Utah, Washington, and Wyoming.
Bridge Replaced With Innovative Contracting Opens in California
After completion of a replacement project using the construction manager/general contractor (CM/GC) delivery method, the George E. Tryon Bridge over the South Fork of the Smith River in California opened to traffic on March 3. Federal Lands Highway chose CM/GC contracting for the project because of the challenge of building an arch bridge at a constricted site under complicated project conditions. Using CM/GC early in the project development process helped mitigate risk, incorporate constructability considerations, realize cost savings, and limit environmental impacts. Other project partners include the Six Rivers National Forest, Del Norte County, the California Department of Transportation, and California State Parks.
Construction Manager/General Contractor Bill Signed in Montana
A bill allowing the use of CM/GC project delivery as an alternative contracting method was signed into law on March 1 in Montana. The Montana Department of Transportation worked for years to achieve passage of legislation enabling it to use CM/GC contracting to accelerate project delivery while mitigating risk and fostering innovation use. The agency plans to begin work on delivering the State's first CM/GC project.
Washington Launches Project to Share Road and Weather Data
The Washington State Department of Transportation (WSDOT) kicked off its Connected Vehicles—Weather-Responsive Traffic Management System project at a March 7 meeting in Olympia with FHWA and a firm that provides mobile road traffic and driver services applications. The project vision is to provide real-time weather data transfer between WSDOT and third-party vendors to help the public make informed travel decisions and supplement WSDOT maintenance and operations activities. The project is an example of the strategies FHWA is promoting in the EDC-4 effort on road weather management—weather-savvy roads.