July 27, 2017
Innovation of the Month:
Ultra-High Performance Concrete Connections
In States across the country, agencies are deploying ultra-high performance concrete (UHPC) connections on bridge construction projects.
The New Jersey Department of Transportation (NJDOT) used UHPC to connect precast deck panels on the Pulaski Skyway, the Nation's largest accelerated bridge construction project. Using UHPC kept the width and length of construction joints to a minimum, saving time and money and speeding up the project.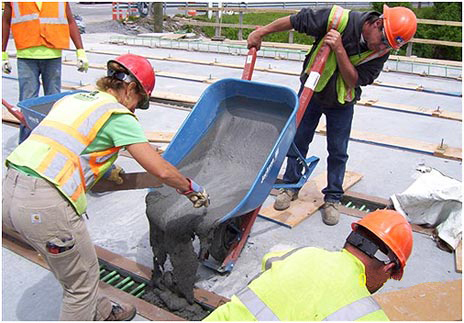 New York has completed 56 UHPC projects, the most in the country. On a project to replace the I-87 bridges over Albany-Shaker Road in Colonie, the New York State Department of Transportation kept construction time to one season by using precast deck panels with UHPC connections.
Watch a video on UHPC and its use on bridge projects.
Contact Ben Graybeal of the Federal Highway Administration Turner-Fairbank Highway Research Center or Mark Leonard of the FHWA Resource Center for information and technical assistance.
Second Chance to View Every Day Counts Summit Proceedings
View recordings of the breakout sessions at the Every Day Counts round four (EDC-4) summits—held last fall to introduce the 11 innovations FHWA is promoting in 2017 and 2018—to catch up on any you may have missed. Each session covers an innovation overview, deployment challenges and benefits, FHWA implementation resources, and how agencies are using the innovation. Watch the session on UHPC connections, July's innovation of the month, to learn about the Delaware Department of Transportation's experience using UHPC connections on bridge projects on Daisy Road in Millsboro, on I-95 in Newark, and in the Prime Hook National Wildlife Refuge.
High-Friction Surface Treatment Demonstrated in Colorado
An FHWA peer exchange in Aurora, CO, on July 12 and 13 enabled representatives of eight State transportation departments to share strategies on implementing roadway departure safety countermeasures. The event featured a demonstration of automated placement of high-friction surface treatment (HFST), a pavement overlay system with exceptional skid resistance. The demonstration allowed participants from States that have not used HFST to see it in person and learn from colleagues who deploy it successfully. Other countermeasures participants discussed include pavement markings, signing improvements, and rumble strips. To schedule a peer exchange, contact Joe Cheung or Cathy Satterfield of the FHWA Office of Safety.
Highway Safety Manual Training Delivered in New Jersey
Under the EDC-4 data-driven safety analysis (DDSA) initiative, FHWA provided training to New Jersey stakeholders on applying the American Association of State Highway and Transportation Officials' Highway Safety Manual (HSM) to projects. The FHWA team helped participants examine the implications of not having a specific match between project sites and HSM analysis methodologies and how to overcome the differences. This tailored training approach allows participants to bring project information to a session and work through HSM analysis as a group. To bring DDSA training to your State, contact Jerry Roche of the FHWA Office of Safety or John McFadden of the FHWA Resource Center.
Localities Pursue Pavement Preservation Strategies
Omaha, NE, and Santa Barbara County, CA, are deploying pavement preservation strategies to extend pavement service life. Omaha implemented Pavement Surface Evaluation and Rating (PASER), a scale that describes defects and provides a system to visually rate pavement condition. Benefits of using pavement preservation strategies include better maintenance decisions and potential savings from longer pavement life. Contact Todd Pfitzer of the city of Omaha for information. Santa Barbara County incorporated input from the public and county officials on proposed projects in its Road Maintenance Annual Plan, which increases awareness of pavement preservation. Contact Chris Sneddon of Santa Barbra County for information. To learn more, view a pavement preservation webinar for local agencies or contact Jason Dietz of the FHWA Resource Center.