August 25, 2017
Innovation of the Month:
Integrating NEPA and Permitting
Integrating National Environmental Policy Act (NEPA) and permitting processes allowed the New York State Thruway Authority to cut years from the time needed to secure permits for the New NY Bridge project to replace the Tappan Zee Bridge.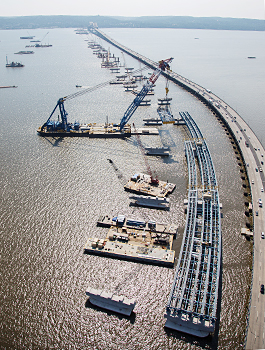 The authority chose the
design-build
project delivery method and accelerated permitting and reviews to speed up the replacement of this transportation link between South Nyack and Tarrytown.
The authority collaborated with the New York State Department of Transportation, Federal Highway Administration, and resource agencies—including the Army Corps of Engineers and National Marine Fisheries Service—on the following strategies to accelerate project delivery:
Developed an agreement with cooperating resource agencies.
Established one point of contact for each agency and project team with the power to make decisions.
Held regular meetings to discuss expectations and set priorities.
Conducted a workshop for regulators on design-build contracting.
As a result, the project progressed from notice of intent to a record of decision in 11 months and obtained permits in 18 months, a process that typically takes years for projects of similar size and scope.
Contact Mike Ruth of the FHWA Office of Planning, Environment, and Realty for information and technical assistance on integrating NEPA and permitting processes.
Colorado Demonstrates Self-Driving Work Zone Vehicle
The Colorado Department of Transportation (CDOT) demonstrated the world's first self-driving work zone vehicle on a road striping operation in Fort Collins. The demonstration was part of CDOT's implementation of smarter work zone technologies to enhance work zone safety. The Autonomous Impact Protection Vehicle (AIPV) removes the driver from the impact attenuator, or crash cushion, truck that customarily travels behind mobile work crews to act as a barrier to deflect vehicles that could hit people or equipment. The self-driving technology takes the vehicle driver out of harm's way while still protecting road workers. For information, contact Amy Ford of CDOT.
South Capitol Street Corridor Project Advances in Washington, DC
The District Department of Transportation (DDOT) chose a design-build team for phase 1 of the South Capitol Street Corridor project, the largest public infrastructure project in Washington, DC, history. Phase 1 includes replacing the Frederic Douglass Memorial Bridge over the Anacostia River with a six-lane arch bridge. DDOT chose design-build project delivery to encourage design and construction innovation and save an estimated 2 to 3 years over traditional design-bid-build delivery. For information, contact Michael Smart of the FHWA District of Columbia Division.
Award-Winning Projects Feature EDC Innovations
Highway agencies used accelerated bridge construction (ABC), design-build project delivery, and a roundabout on projects recognized in the southern regional America's Transportation Awards competition. The American Association of State Highway and Transportation Officials, AAA, and U.S. Chamber of Commerce sponsor the competition to honor outstanding projects at the regional and national levels.
The Arkansas Department of Transportation used ABC to minimize the impact on travelers when it replaced the Broadway Bridge over the Arkansas River in Little Rock. The project, completed a month ahead of schedule, included installing the new substructure below the existing bridge while traffic continued on the bridge.
The Kentucky Transportation Cabinet used design-build delivery on its Downtown Crossing project over the Ohio River in Louisville, which includes a new I-65 bridge with extensive roadway, overpass, and bridge improvements. The project, finished on budget and ahead of schedule, reduced congestion and improved safety in the area.
The South Carolina Department of Transportation constructed a roundabout in Lexington County at the intersection of S-106/S-387/S-1065 to reduce congestion and enhance safety. Preliminary data show a 66 percent reduction in total crashes and a 100 percent drop in injury crashes.