September 28, 2017
Innovation of the Month:
Pavement Preservation (When, Where, and How)
Transportation agencies across the country are deploying pavement preservation strategies to extend pavement service life, keep road networks in good repair, and save money.
The Kentucky Transportation Cabinet used diamond grinding to correct surface imperfections on all 536 State-maintained lane miles of concrete pavement. The 5-year program reduced the average International Roughness Index (IRI) value—a measure of ride quality—from 112.1 to 74.5. The program cost $100 million, but the cost of non-preservation treatments to achieve the same IRI values would top $1 billion.
The North Carolina Department of Transportation (NCDOT) treated 44 percent of paved secondary roads with a chip seal, which combines layers of asphalt binder and aggregate. Because the cost per lane mile of a chip seal treatment is a quarter of the cost of a mill-and-overlay treatment, NCDOT is able to treat more lane miles each year.
The Washington State Department of Transportation (WSDOT) has a maintenance policy under which $13 million applied to 3,500 lane miles from 2009 to 2015 resulted in $15 million in annual savings by delaying major resurfacing projects. WSDOT requires at least one maintenance treatment before a capital rehabilitation or resurfacing project can be programmed.
Register to attend Every Day Counts workshops on pavement preservation concepts and techniques on October 3 in Muskogee, OK, and October 4 in Perry, OK.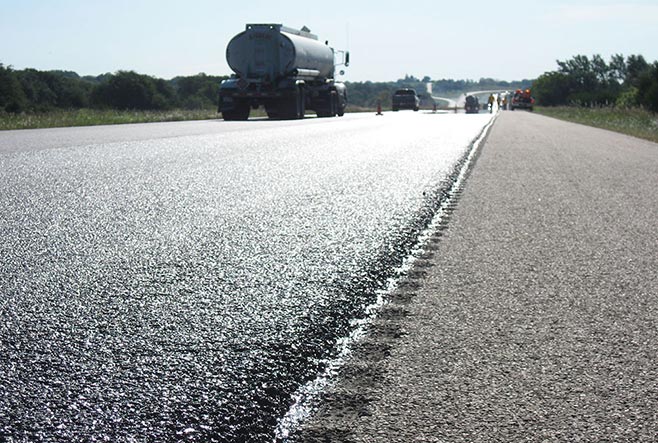 Bridge Slide-In Accelerates Indiana Project
The Indiana Department of Transportation (INDOT) is using slide-in bridge construction on an interstate for the first time on a project to replace the I-70 bridges over State Route 121 near Richmond. Slide-in bridge technology accelerates construction, increases safety, reduces traffic maintenance costs, and minimizes impacts on motorists. INDOT received Accelerated Innovation Deployment Demonstration funds for the project. For information, contact Jeremy Hunter of INDOT.
Prefabricated Bridge Reduces Environmental Impact on Washington Project
Thurston County, WA, used a prefabricated bridge to replace a culvert over Beaver Creek during an expedited 1-month construction window. The bridge was fabricated offsite in units sized for placement in the environmentally sensitive area with a small crane and delivered to the work zone for installation. The county estimates that prefabrication reduced project costs by 50 percent over traditional construction methods. For information, contact Matt Unzelman of the Thurston County Department of Public Works.