October 5, 2017
Innovation of the Month:
Community Connections
The Every Day Counts (EDC) innovation of the month for October is community connections, which promotes the use of strategies and tools to revitalize communities and connect people to essential services and opportunities.
This innovation focuses on urban, suburban, and rural communities divided by transportation infrastructure investments. In some communities, this has resulted in economic, social, and mobility challenges, including limited access to services such as jobs and health care.
In EDC round four (EDC-4), the Federal Highway Administration is promoting ways to plan, design, and build transportation projects that reestablish community connections, enhance access, and improve health and safety.
Fourteen States plan to demonstrate and assess community connections approaches to improve their transportation networks in EDC-4. Another 13 States and Washington, DC, plan to make community connections a standard practice.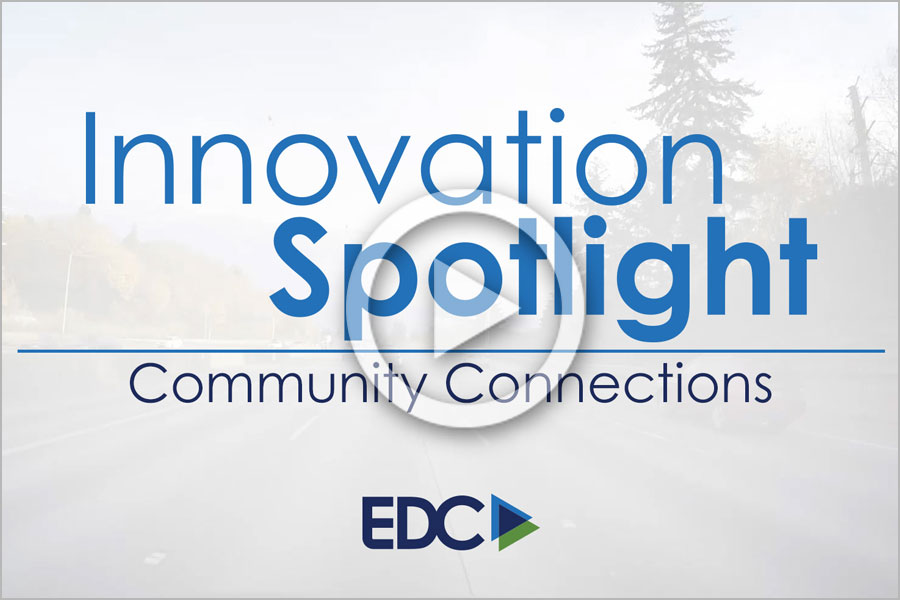 View an
Innovation Spotlight video
on community connections.
Contact Kenneth Petty of the FHWA Office of Planning, Environment, and Realty or Robert Mooney of the FHWA Office of Infrastructure for information and technical assistance, including workshops and peer exchanges on community connections.
State Transportation Innovation Councils Recognized for Excellence
State Transportation Innovation Councils (STICs) in Pennsylvania and Wisconsin received 2017 STIC Excellence Awards. The American Association of State Highway and Transportation Officials and Federal Highway Administration sponsor the annual award to recognize STICs that have made a significant impact in fostering a strong culture of innovation.
The Pennsylvania STIC enhanced dialogue between State and local leaders and promoted state-of-the-art safety practices and resources. The STIC and local governments collaborated on a Salt and Snow Management Course that trained 600 participants on innovative winter maintenance techniques, demonstrated the effectiveness of high-friction surface treatment in high-crash locations, and reached out to 445 local public agencies to understand their top transportation issues.
The Wisconsin STIC created a multitiered structure that enabled the State to deploy more than 40 Every Day Counts innovations, seven second Strategic Highway Research Program solutions, and many other innovations. Local Innovation Teams include practitioners who apply innovations on projects and propose ideas. The multidisciplinary Innovation Review Committee collaborates on innovations and identifies paths for rapid deployment.
Minnesota Uses Construction Manager/General Contractor on Highway Relocation
The Minnesota Department of Transportation (MnDOT) used the construction manager/general contractor (CM/GC) delivery method on its project to relocate Highway 53 between Virginia and Eveleth. The project, which relocated a highway section on land owned by a mining company to allow expansion of a taconite mine, included construction of 3 miles of new roadway, a bridge, and an interchange. MnDOT chose CM/GC to allow for early contractor input and a collaborative approach to planning and constructing the project on a tight schedule to meet the 2017 deadline for moving the road. The CM/GC contractor completed the 2-year project 6 weeks ahead of schedule. For information, contact Pat Huston of MnDOT.
Virginia Develops Innovative Intersection Design Selection Tool
The Virginia Department of Transportation (VDOT) developed the VDOT Junction Screening Tool (VJuST) to aid transportation engineers and planners when considering innovative intersection and interchange geometrics to address mobility and safety issues. VJuST can be used to narrow the field of project design options for further evaluation. VDOT demonstrated the tool at its Local Programs Workshop and discussed its value in communicating with the public about innovative intersection designs. For information, contact Wayne Fedora of the FHWA Virginia Division.
Read Deployment Highlights in Every Day Counts Progress Report
EDC-4 Progress Report #1
summarizes the June 2017 deployment status of the 11 innovations in the current round of EDC, one-quarter of the way through the 2-year cycle. View the report's maps and charts to learn how innovation implementation is advancing in States across the country and read deployment highlights for each innovation.