October 12, 2017
Innovation of the Month:
Community Connections
Community connections tools and strategies help transportation agencies work with community stakeholders to identify gaps in transportation infrastructure and services and develop solutions.
Analytical tools to identify and assess the impacts of transportation infrastructure on communities include the following:
PlanWorks, a web-based resource from FHWA, supports collaborative decision making in transportation project planning.
Geographic information system technology helps agencies evaluate transportation infrastructure assets, demographics, and community impacts such as access to services.
Bicycle and pedestrian assessments help communities understand obstacles and safety issues in the road, bicycle, and pedestrian infrastructure.
Public involvement strategies enable agencies to communicate with stakeholders about transportation issues and get input on design plans.
Tactics such as community meetings, websites, and social media help agencies inform and engage stakeholders.
Advisory groups allow community and business leaders to participate in developing solutions.
Visualization techniques such as maps, videos, and 3D renderings help project teams convey challenges and solutions more clearly.
Watch the Every Day Counts (EDC) round four summit session on community connections approaches.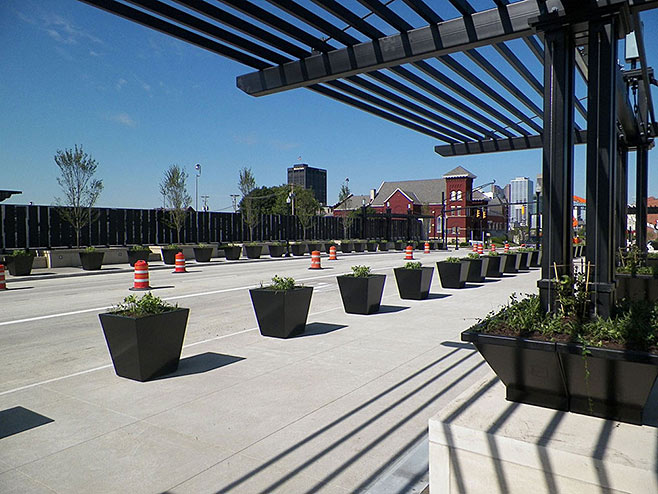 Colorado Interchange Project Uses Design-Build
The Colorado Department of Transportation (CDOT) used the design-build contracting method to encourage flexibility on planning and construction scheduling and accelerate delivery of the I-25/Cimarron Street interchange project in Colorado Springs. The project, designed to enhance safety and operations, included reconstruction of an interchange, new I-25 bridge structures, and improved highway alignment. A new connector between 8th and Cimarron Streets is expected to reduce traffic congestion at the intersection by 20 percent on weekdays and 40 percent on weekends. For information, contact David Watt of CDOT.
EDC Innovations Featured in Central Federal Lands Highway Division Projects
Central Federal Lands Highway Division (CFL) finished work on a 23.4-mile pavement preservation project in Rocky Mountain National Park in Colorado. The project involved applying a microseal—a thin, durable coating that helps prevent future cracking—to the surface of the main road and parking areas. The treatment is expected to extend the life of the road, which provides access to numerous recreational areas throughout the park. For information, contact James Kerrigan of CFL.
A transportation improvement project in the Bureau of Land Management's (BLM) Red Rock Canyon National Conservation Area in Clark County, NV, includes road rehabilitation, two bridges, and parking area expansions. Using the concept of improving collaboration and quality environmental documentation, BLM, CFL, and environmental consultants collaborated on a streamlined review process in the design, National Environmental Protection Act, and permitting portions of the project. The conservation area's core values, including protecting natural resources while providing an excellent visitor experience, were preserved while maintaining an accelerated project delivery schedule. The Safety Edge paving technique was used on 13 miles of roads to bevel the pavement edge to reduce roadway departure crashes. For information, contact Matt Ambroziak of CFL.