October 26, 2017
Innovation of the Month:
Community Connections
The Ohio Department of Transportation (ODOT), city of Columbus, and Mid-Ohio Regional Planning Commission used community connections approaches to rebuild the Long Street Bridge over I-71.
The new bridge includes wider sidewalks and bike lanes to enhance downtown access for residents of the King-Lincoln neighborhood and a parklike cap to accommodate community gatherings and business development. It features a cultural wall that celebrates the community's history and shields the view of the new I-71 lanes under the bridge.
The project is an example of infrastructure and operational improvements transportation agencies are using to improve accessibility, mobility, and safety:
Partial roadway capping to restore land connecting communities that highways once divided
Infrastructure to provide safer routes for pedestrians and bicyclists, such as overpasses and underpasses
Removal of highways or conversion to boulevards to make land available for other uses, including residential and commercial development
Road diets to calm traffic and provide space for uses such as bike lanes and parking
Improved transit service to reduce dependence on cars and enhance access to economic opportunities
For information and technical assistance on community connections, contact Kenneth Petty of the Federal Highway Administration Office of Planning, Environment, and Realty or Robert Mooney of the FHWA Office of Infrastructure.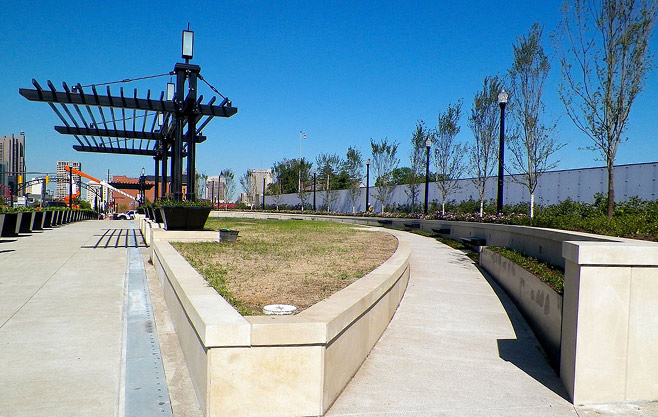 Colorado Opens Underpass to Traffic
The Colorado Department of Transportation (CDOT) opened the new I-70 Vail underpass to vehicle, bike, and pedestrian traffic. The underpass in the heart of Vail is expected to improve multimodal connectivity and safety and reduce travel time. CDOT used the construction manager/general contractor (CM/GC) project delivery method to involve the contractor in both the design and construction phases to streamline the design process and construction schedule, meet the project budget, and mitigate risk. Originally scheduled for completion in December 2017, the project finished ahead of schedule and on budget. For information, contact Matthew Figgs of CDOT.
Minnesota Completes First Mini-Roundabouts
The Minnesota Department of Transportation (MnDOT) and city of St. James used Accelerated Innovation Deployment Demonstration funds to construct two mini-roundabouts on Minnesota State Highway 4 to improve safety and mobility. The mini-roundabouts, part of a Highway 4 reconstruction project and the first to be constructed in the State, replaced two signalized intersections in downtown St. James. Mini-roundabouts offer the safety benefits of regular roundabouts in a smaller footprint, making them appropriate for urban settings and other areas with constrained rights-of-way. For information, contact Zachary Tess of MnDOT.
Performance-Based Practical Design Informs Project Decisions
Performance-based practical design (PBPD), a technique that helps agencies manage transportation investments with limited resources, is part of Every Day Counts innovations such as data-driven safety analysis and community connections. PBPD uses performance data to help agencies make informed decisions on transportation programs and projects. In one example, the Arizona Department of Transportation (ADOT) used PBPD to evaluate State Route 264, a rural highway with a high potential for roadway departure crashes, to identify safety solutions. ADOT chose a road-widening alternative that incorporated a bike lane and had a lower overall cost and higher benefit-cost ratio. See more case studies on the PBPD website. For information, contact Robert Mooney of FHWA.