November 2, 2017
Innovation of the Month:
e-Construction and Partnering: A Vision for the Future
The Every Day Counts (EDC) innovation of the month for November is e-Construction and partnering: a vision for the future, which uses paperless technologies to enhance partnering among project stakeholders.
Both e-Construction and construction partnering are proven approaches to help agencies improve the delivery of transportation projects. Using the two practices together offers even greater opportunities to manage projects effectively and efficiently.
In Every Day Counts round four (EDC-4), 25 States, Washington, DC, the U.S. Virgin Islands, and Federal Lands Highway (FLH) plan to demonstrate and assess e-Construction tools and processes. Another 21 States expect to make e-Construction a standard practice.
Ten States, the U.S. Virgin Islands, and FLH plan to demonstrate and assess paperless technologies to improve partnering among stakeholders on construction projects in EDC-4. Another 17 States plan to make e-Construction and partnering a standard practice in project delivery.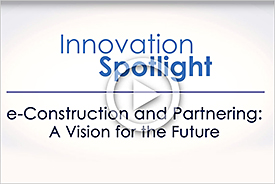 View an Innovation Spotlight
video
on e-Construction and Partnering.
For information and technical assistance on e-Construction, contact Kathryn Weisner of the Federal Highway Administration Resource Center.
For information and technical assistance on construction partnering, contact Chris Schneider or Richard Duval of the FHWA Office of Infrastructure.
Concurrent Reviews Reduce the National Environmental Policy Act (NEPA) Process from Years to Months
The specific way in which FHWA conducted coordination sets the Tappan Zee Bridge Replacement project apart and significantly accelerated the permitting and review process. For a project with such a large scope and environmental setting, the number of approvals required to begin design and construction was substantial. To enhance collaboration and coordination among ten agencies, FHWA held "Agency Summits" at which expectations were discussed and priorities established. Through this collaborative process, FHWA was able to develop an environmental document that several other agencies were able to adopt to meet their own regulatory needs. For more information on conducting synchronized, coordinated, and transparent reviews, contact Mike Ruth at Mike.Ruth@dot.gov.
National State Transportation Innovation Council Meeting Focuses on Research
Speakers at the National State Transportation Innovation Council (STIC) Meeting emphasized the value of including researchers on STICs to discuss findings with practitioners who deploy innovations and brainstorm about future transportation needs. The Iowa Department of Transportation discussed how researchers and practitioners collaborate on the Iowa Highway Research Board, which serves as Iowa's STIC. An Iowa STIC Incentive project studied the use of 3D modeling tools for bridge design and developed an implementation plan. Federal Lands Highway discussed an Accelerating Market Readiness project to develop the Mobile Solution for Assessment and Reporting, a software tool to accelerate disaster information collection that was used after recent storms and fires. View the meeting and presentations at the National STIC Meeting Recordings page.