November 9, 2017
Innovation of the Month:
e-Construction and Partnering: A Vision for the Future
The Every Day Counts (EDC) innovation of the month combines two proven practices—e-Construction and construction partnering—to streamline and enhance transportation project delivery.
e-Construction—the creation, review, approval, distribution, and storage of construction documents in a digital environment—uses electronic processes that improve workflows, increase transparency, enhance safety and quality, and save time and money.
Construction partnering—a management practice that helps agencies, contractors, and other stakeholders create a team relationship—builds connections to complete quality projects that are finished on time and on budget, focused on safety, and profitable for contractors.
Using e-Construction and partnering together offers several benefits:
Increased transparency by applying technology to support secure, expedited document transmission  and build a relationship of mutual trust to proactively resolve issues and minimize disputes
Time savings by strengthening collaboration among project team members and enabling managers to administer projects electronically and inspectors to collect data on mobile devices
Reduced costs by saving on paper, printing, and document storage and transmission and minimizing change orders and claims through improved communication
Watch the EDC summit session on e-Construction and partnering.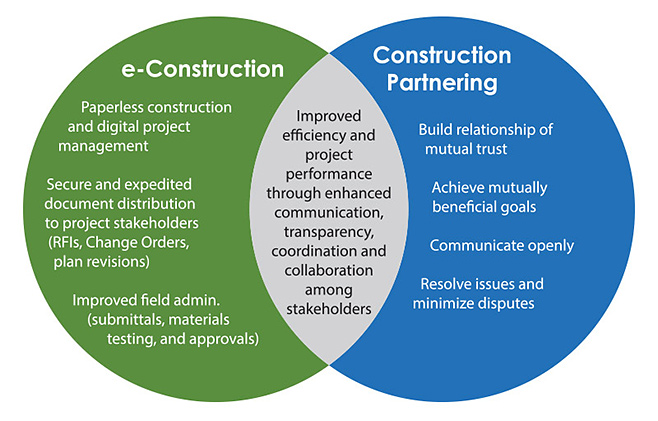 Indiana Bridge Slide-In Finished Ahead of Schedule
The Indiana Department of Transportation (INDOT) used slide-in bridge construction to replace the eastbound I-70 bridge over State Route 121 near Richmond in just 8 days. Traffic was diverted across the median while the existing bridge was demolished and the new bridge, built in the median, was slid into place. The earlier slide-in replacement of the westbound I-70 bridge was also finished in 8 days. The contractor bid 12 days of closure for each direction of I-70. INDOT received Accelerated Innovation Deployment (AID) Demonstration funds for the project, its first bridge slide on a major interstate corridor. For information, contact Jeremy Hunter of INDOT.
Minnesota Finds a Path for Blizzard Messaging
Sometimes a storm comes along and causes very uncommon impacts on transportation. The Minnesota Department of Transportation (MnDOT) hosted a workshop to initiate Pathfinder for blizzards in Minnesota. Workshop attendees from MnDOT, the National Weather Service (NWS), Minnesota State Patrol, and MnDOT's weather service provider discussed how blizzards are managed today and used a 2017 blizzard as a case study to assess challenges and opportunities that could be addressed under Pathfinder implementation, such as establishing a private NWSChat and promoting MnDOT participation in NWS webinar briefings. Procedures and resources to implement Pathfinder are being developed. For information on the workshop results, contact Garrett Schreiner of MnDOT. To host a workshop in your State, contact Paul Pisano of FHWA.
See the Latest Issue of Innovator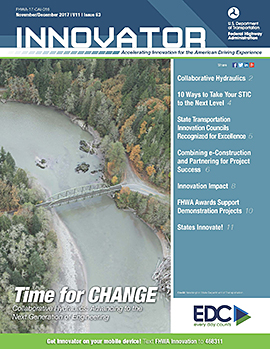 Read the new
issue
of the Innovator newsletter to learn how modern hydraulic modeling tools can help transportation professionals design and build safer, more resilient structures on waterways. Also, read how combining e-Construction and partnering helps agencies manage projects more effectively and efficiently and how State Transportation Innovation Councils in Pennsylvania and Wisconsin, 2017 STIC Excellence Award recipients, foster a culture of innovation.