January 4, 2018
Innovation of the Month:
Road Weather Management—Weather-Savvy Roads
The Every Day Counts (EDC) innovation of the month for January is road weather management—weather-savvy roads, strategies to manage the surface transportation system before and during adverse weather events and deliver targeted messages to travelers.
Weather forecasts help travelers decide whether to carry an umbrella or wear a coat, but don't tell the whole story of what they'll encounter on the road. For that, travelers need information on road weather, the state of the driving environment with a focus on precipitation, visibility, wind, and road conditions. Messages on road weather deliver information on current or predicted impacts, such as hazardous conditions, service reductions, and road closures.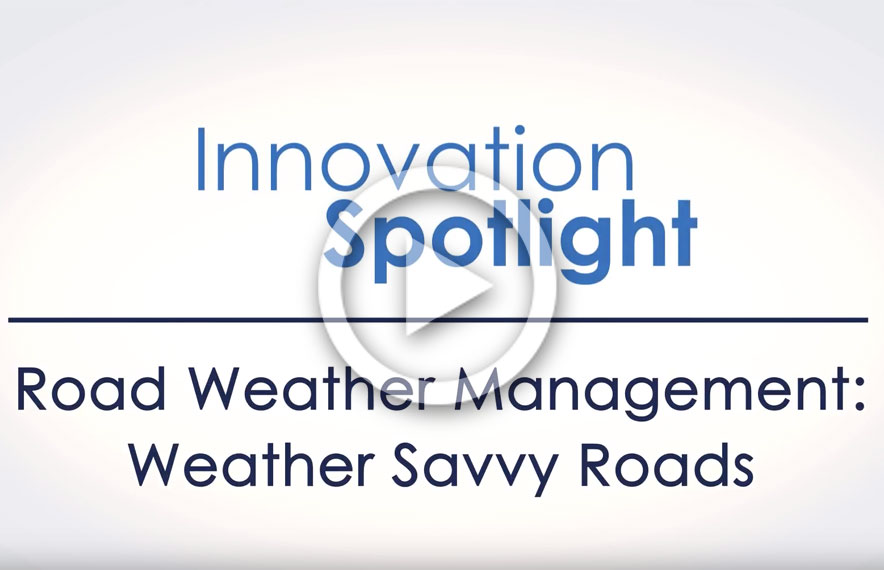 Every Day Counts round four (EDC-4) promotes two solutions to address weather impacts on the highway system:
Pathfinder is a collaborative process to provide clear and consistent road weather messaging.
Integrating mobile observations is a cost-effective way to gather weather and road condition information using transportation agency fleet vehicles.
View an Innovation Spotlight video on weather-savvy roads.
Contact Paul Pisano of the Federal Highway Administration Office of Operations or Ray Murphy of the FHWA Resource Center for information, technical assistance, and training.
Add Innovation to Your Transportation Research Board Meeting Schedule
Meet the EDC team and learn about the 11 innovations in EDC-4 at booth #526 during the Transportation Research Board (TRB) Annual Meeting January 7–11 in Washington, DC. Stop by booth #327 to see how the Office of Innovative Program Delivery advances innovation in the transportation community.
Also join us for the following sessions:
"FHWA: Leadership in Innovation" (session #443 at 3:45 p.m. on January 8): A panel from around the Nation will explore strategies to mitigate risk when deploying innovations, with a focus on financial, organizational, and performance risk.
"The Power of Innovation: Capturing the Value of Investments in Innovation" (session #797 at 10:15 a.m. on January 10): Speakers will discuss quantifying return on investment, qualifying value, and communicating the impact of innovations.
See a list of innovation-related exhibits and sessions to plan your TRB schedule.
It's Time to Send Your Innovation Ideas
January 18 is the deadline for submitting suggestions for innovations to deploy during EDC-5 in 2019 and 2020. This is your opportunity to help identify proven, market-ready innovations to enhance highway safety, shorten transportation project delivery time, cut traffic congestion, and improve environmental sustainability. See the EDC-5 Call for Ideas web page for information on submitting suggestions. Contact Julie Zirlin of the FHWA Center for Accelerating Innovation with questions.