January 11, 2018
Innovation of the Month:
Road Weather Management—Weather-Savvy Roads
Pathfinder is one of the road weather management—weather savvy roads solutions the Federal Highway Administration is promoting in Every Day Counts (EDC). Pathfinder helps transportation departments, the National Weather Service, and private weather service providers collaborate on clear, consistent, and actionable road weather messaging.
Through a multistep process, stakeholders coordinate on developing weather impact information to help drivers make better decisions, such as whether, when, and where to travel and safe driving speeds. The goal is to save lives, protect property, and minimize the impact of weather events.
As part of the Pathfinder initiative, FHWA hosted a peer exchange to share best practices on developing effective messages on road weather events for dynamic message signs. Speakers advised making messages impactful, such as providing information on forecasted conditions that help travelers take appropriate action on return times or alternate routes. They offered examples of actionable messages, such as "45 MPH WINDS—SEMI-TRUCKS USE CAUTION."
See Pathfinder resources, including dynamic message sign guidelines, in the weather-savvy roads resource toolkit.
Read Collaboration Across the Road Weather Enterprise: The Pathfinder Project for guidance on implementing the Pathfinder process.

Idaho County Upgrades Traffic Signal Control Technology
As part of its deployment of automated traffic signal performance measures to improve safety and traffic flow, the Ada County Highway District (ACHD) in Idaho will upgrade traffic signal control technology at 82 intersections in 2018 and 2019. The software enables engineers to make changes such as signal timing adjustments in real time from a central location. When ACHD put the new system to the test at eight intersections on Chinden Boulevard from Locust Grove to Highway 16, travel time on the 5-mile stretch was reduced from more than 10 minutes to under 8 minutes. For information, contact Shawn Martin of ACHD.
See the Latest Issue of Innovator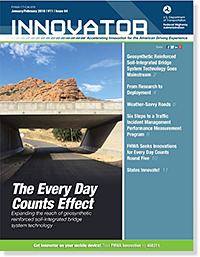 Read the new issue of the Innovator newsletter to learn how EDC expanded deployment of geosynthetic reinforced soil-integrated bridge system technology from a handful of bridges to more than 200 and demonstrated the technology's value for widespread use. Also, read about road weather management strategies that help agencies manage the surface transportation system before and during adverse weather events and six steps States can take to implement a traffic incident management performance measurement program.
Last Call: Send Us Your EDC-5 Innovation Ideas
January 18 is the deadline to respond to FHWA's call for ideas for innovations for the Nation's transportation stakeholders to deploy in EDC round five (EDC-5) in 2019 and 2020. This is your opportunity to help identify proven, market-ready innovations to enhance highway safety, shorten transportation project delivery time, cut traffic congestion, and improve environmental sustainability. See the EDC-5 Call for Ideas web page for information on submitting suggestions. Contact Julie Zirlin of the FHWA Center for Accelerating Innovation with questions.