January 25, 2018
Innovation of the Month:
Road Weather Management—Weather-Savvy Roads
Road weather management—weather-savvy roads strategies on integrating mobile observations and Pathfinder can help transportation agencies manage road systems and inform travelers before and during adverse road weather conditions.
The Colorado Department of Transportation (CDOT) is implementing the Pathfinder collaboration process to improve its public communication on how weather events will affect the highway system. CDOT developed a chart it uses to determine incident severity and conducted 40 pre-storm conference calls in the 2016–2017 winter season to plan appropriate responses.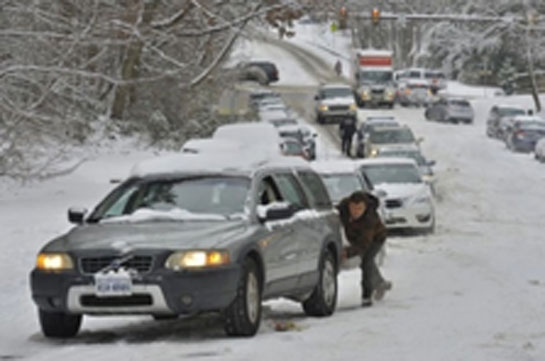 The Minnesota Department of Transportation (MnDOT) is developing procedures to use Pathfinder to manage the effects of weather events. At a workshop, staff from MnDOT, the National Weather Service (NWS), and the Minnesota State Patrol used a 2017 blizzard as a case study to assess challenges and opportunities that could be addressed with Pathfinder, such as establishing an
NWSChat
instant messaging program and promoting MnDOT participation in NWS webinar briefings.
The Oklahoma Department of Transportation (ODOT) integrated electronic tablets into its snowplow fleet. ODOT runs tracking software to conduct real-time monitoring of winter weather operations. The system is capable of capturing a photo of the roadway every 10 minutes, generating useful information about road conditions.
See the weather-savvy roads toolkit for resources on Pathfinder and integrating mobile observations.
Contact Paul Pisano of the Federal Highway Administration Office of Operations or Ray Murphy of the FHWA Resource Center for information, technical assistance, and training.
Alabama Pursues Pavement Preservation Training
As part of its deployment of pavement preservation (when, where, and how) strategies, the Alabama Department of Transportation (ALDOT) is coordinating with the National Center for Asphalt Technology to train ALDOT staff on selecting preventive maintenance projects. The training is customized to each area or region by using pavement prioritization reports, videos of local roads, and case studies. The training will lead to standardized ALDOT preservation selection methods for both project locations and treatment types. Development is underway on the next training phase, which will focus on selecting pavement preservation treatments and setting up a pavement management plan. The training is also being adapted for use with local governments. For information, contact Kristy Harris of the FHWA Alabama Division.
Colorado Applies Hydraulic Models to Improve Project Efficiency
The Colorado Department of Transportation (CDOT) is using two-dimensional (2D)​ ​hydraulic analysis and 3D imaging to improve project quality and enhance project delivery efficiency. ​In applying these technologies to a design to replace the State Highway 60 Bridge over the South Platte River, CDOT found it could reduce​ ​erosion potential on adjacent private land and in the right-of-way while reducing sediment blockage created by the original bridge. The analysis also showed that smaller piers on the new bridge would create less​ ​drag on water flow and collect less debris during high-water events, reducing flooding upstream.
On a​ U.S. Highway 85 ​project on a floodplain in Weld County, CDOT used 2D analysis to​ ​calculate more accurate flow splits in a reach of Eaton Draw. The model identified more accurate flood depths, which will help CDOT optimize the siting of traffic control devices for an intersection safety enhancement project. For information on how CDOT uses technology to leverage efficiency, contact Brian Varrella of CDOT. For information on the EDC-4 initiative on collaborative hydraulics: advancing to the next generation of engineering (CHANGE), contact Scott Hogan of FHWA.