March 29, 2018
Innovation of the Month:
Data-Driven Safety Analysis
The Interactive Highway Safety Design Model (IHSDM), a suite of software analysis tools that support data-driven safety analysis (DDSA), helps transportation agencies evaluate the safety and operational effects of geometric design decisions on highways.
IHSDM includes six evaluation modules that provide quantitative information on the expected safety and operational performance of a highway design: Crash Prediction, Policy Review, Design Consistency, Traffic Analysis, Intersection Review, and Driver Vehicle. The latest version of IHSDM—released this month—expands data entry and reporting options to include mileposts. It also expands the scope of a tool that allows users to conduct economic analyses using Crash Prediction Module evaluation results on crash frequencies and severities.
Use of IHSDM is gaining momentum among transportation agencies as a way to validate design decisions and potentially save time during the design process. Before proceeding with a project to remove a 2-mile bottleneck on I-225, the Colorado Department of Transportation (CDOT) wanted to know how the project would affect safety on the I-225 and downstream I-25 corridors. To answer the question, CDOT worked with the Every Day Counts DDSA team to analyze a combination of alternatives and effects using the IHSDM Crash Prediction Module. The results of the analysis showed no significant adverse impact on safety.
Download IHSDM software free of charge. For information on IHSDM, contact Abdul Zineddin of the Federal Highway Administration Office of Safety Research and Development.
For information on using IHSDM for DDSA, contact Jerry Roche of the FHWA Office of Safety or John McFadden of the FHWA Resource Center.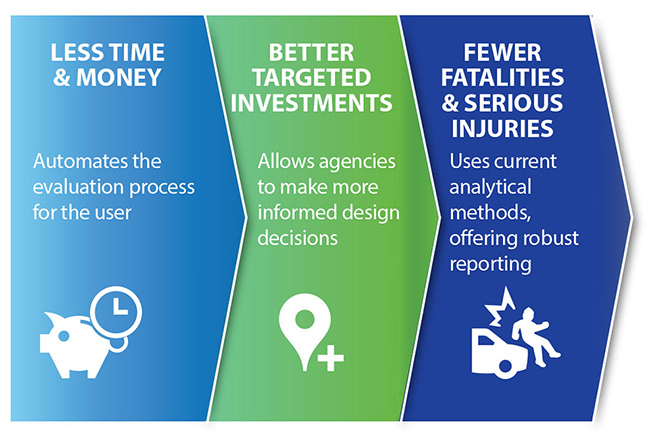 Illinois Hosts Pavement Preservation Workshop
As part of its deployment of pavement preservation (when, where, and how) strategies, the Illinois Department of Transportation (IDOT) collaborated with FHWA to host an "Integrating Pavement Management to Selecting Pavements for Preventive Maintenance" workshop. As IDOT implements Transportation Performance Management, the agency recognizes pavement preservation as a cost-effective way to sustain infrastructure through whole-life investments. Workshop participants from IDOT, local agencies, a metropolitan planning organization, and the private sector worked on examples to evaluate the impact of pavement condition on project selection, identify the cause of various pavement distresses, and determine the best preservation process to solve specific problems. IDOT will use the workshop information to enhance its pavement preservation treatment guidance and investigate treatments to add to its pavement preservation toolbox. For information, contact Jason Dietz of the FHWA Resource Center.
Mississippi Construction Manual Goes Electronic
The Mississippi Department of Transportation (MDOT) used State Transportation Innovation Council Incentive funds to update its Construction Manual and convert it to an electronic format with links to documents used throughout the agency. The electronic conversion, part of MDOT's e-Construction implementation effort, is an initial step toward the use of mobile field applications for construction monitoring and oversight. MDOT expects the new manual to improve the efficiency and accuracy of contract administration on projects. The electronic format will also make future updates easier. For information, contact Earl Glenn of MDOT.