May 17, 2018
Innovation of the Month:
Integrating National Environmental Policy Act and Permitting
Agencies are integrating National Environmental Policy Act (NEPA) and permitting processes to promote early agency coordination and concurrent reviews to streamline the transportation project development process.
Federal Lands Highway (FLH), for example, is coordinating with regulators on a proposed project to rehabilitate approximately 12 miles of Sir Francis Drake Boulevard in Point Reyes National Seashore in California. The purpose of the project is to enhance safety, decrease flood risk, and reducing ongoing maintenance requirements while minimizing environmental impacts.
Regular meetings with regulators enabled FLH to identify opportunities to streamline review of Clean Water Act Sections 404 and 401 applications with the U.S. Army Corps of Engineers and biological assessments with the U.S. Fish and Wildlife Service and National Marine Fisheries Service (NMFS). NMFS confirmed that its involvement will help FLH get a biological opinion in 60 days instead of 145 days, the review time allowed by regulation. For information on the project, contact Nate Allen of FLH.
View a webinar on integrating NEPA and permitting for local, tribal, and Federal land management agencies.
See the Integrating NEPA and Permitting Resources Library for case studies, templates, State agreements, publications, and presentations.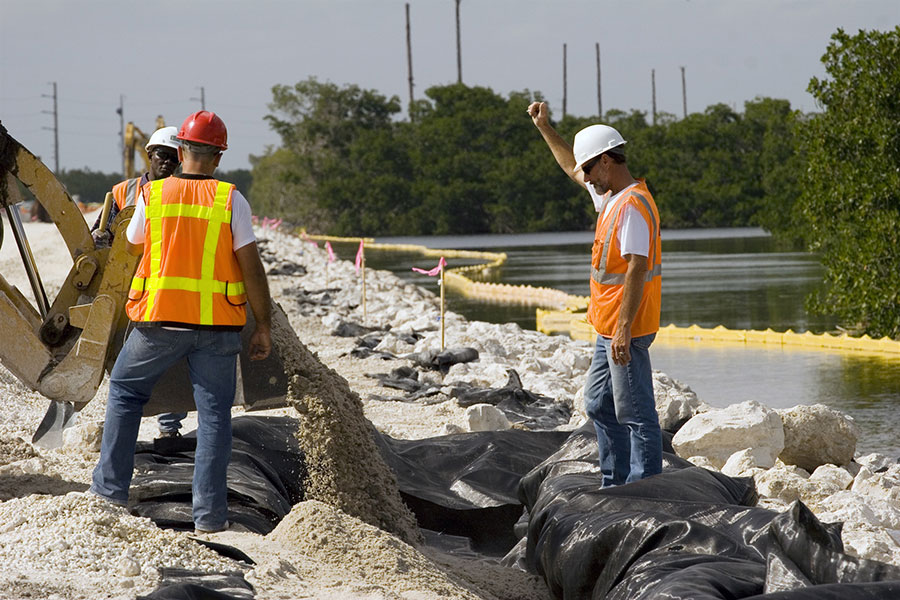 Idaho Advances Mitigation Activities
Challenged by a lack of appropriate mitigation opportunities, the Idaho Department of Transportation and the U.S. Army Corps of Engineers Walla Walla District held a 1.5-day wetland mitigation workshop to explore mitigation banking, in-lieu fee (ILF), and other approaches to compensatory mitigation. Two ILF providers shared their mitigation methodologies and successes in other States. At the end of the workshop, the Idaho agencies decided to consider both an ILF program and a statewide umbrella mitigation banking instrument, establish a dedicated Idaho Mitigation Working Group, organize an ILF provider symposium, and apply for an Environmental Protection Agency Wetland Program Development Grant. The integrating NEPA and permitting team is available to provide technical assistance and conduct mitigation workshops and peer exchanges. For information, contact Mike Ruth of the Federal Highway Administration.
Ultra-High Performance Concrete Construction Checklist Now Available
FHWA published a checklist for the construction of ultra-high performance concrete (UHPC) connections for prefabricated bridge elements. The UHPC checklist provides guidance to bridge owners when developing their agency's inspection procedures for the construction of UHPC connections. The checklist follows the flow of a project construction schedule, in phases of pre-award, preconstruction, prototype casting, field casting, post-placement, and project closeout. For technical assistance on the construction of UHPC connections, see "Design and Construction of Field-Cast UUPC Connections" (FHWA-HRT-14-084) or contact Mark Leonard of FHWA.