October 4, 2018
Innovation of the Month:
e-Construction and Partnering: A Vision for the Future
The Every Day Counts (EDC) innovation of the month for October is e-Construction and partnering: a vision for the future, a strategy that uses paperless technologies to enhance partnering among project stakeholders.
e-Construction—the creation, review, approval, distribution, and storage of documents in a digital environment—uses readily available technologies to improve construction document management. Construction partnering—a management practice that helps agencies, contractors, and other stakeholders create a team relationship—builds connections to complete quality projects. Combining e-Construction and partnering increases transparency, saves time, and reduces costs over time.
Use of e-Construction is becoming widespread, with nearly every State developing, demonstrating, or assessing e-Construction tools and processes or using them as a standard practice. The combination of e-Construction and partnering has been developed, demonstrated, assessed, or standardized by more than two-thirds of the States.
View an Innovation Spotlight video on e-Construction and Partnering: A Vision for the Future.
Contact Chris Schneider of the Federal Highway Administration Office of Infrastructure or Kathryn Weisner of the FHWA Resource Center for information and technical assistance.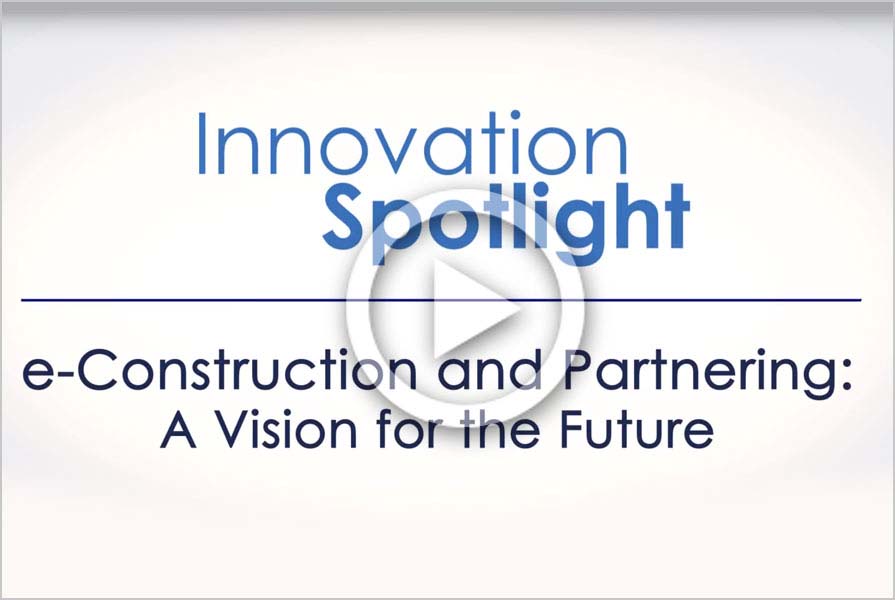 Colorado, Delaware, and Texas Take Home STIC Excellence Awards
State Transportation Innovation Councils (STICs) in Colorado, Delaware, and Texas received 2018 STIC Excellence Awards for demonstrating success in fostering a strong culture of innovation among stakeholders. The American Association of State Highway and Transportation Officials and Federal Highway Administration sponsor the annual award to promote innovation.
The Colorado STIC focused on activities to enable local agencies to put innovation into practice, including a Local Innovation Implementation Summit organized by the Colorado Local Technical Assistance Program (LTAP). After surveying agencies to determine the top five EDC innovations to feature at the summit, the LTAP delivered sessions on safe transportation for every pedestrian, road diets, data-driven safety analysis, pavement preservation, and road weather management. The summit also promoted an equipment loan program for local agencies to support innovation deployment. As a result of the summit, local agencies increased requests to the equipment loan program, several agencies expressed interest in developing local road safety plans (LRSPs), and an LRSP peer exchange is in the works.
The Delaware STIC and Delaware Department of Transportation (DelDOT) collaborated on an Innovation Fair to showcase nearly 40 innovations agency staff implemented to improve safety and efficiency, cut costs, and save time. DelDOT, the Delaware Department of Natural Resources and Environmental Control, and the Government Information Center partnered with Open Data Delaware and TechImpact on the 2018 Open Data Challenge. Through the challenge, teams used transportation, environmental, and recreational datasets to develop apps, including one to make transportation more accessible for persons with disabilities.
Since being chartered in 2016, the Texas STIC has engaged a wide range of stakeholders in a large urban and rural State. Using a website, videos, and factsheets to share the STIC's mission and goals has attracted a diverse network of innovators from local agencies, academia, industry associations, and metropolitan planning organizations. STIC meetings—held in person and by webcast to overcome geographical challenges—typically draw about 70 participants. One project the STIC chose for implementation is a proactive signal control system to optimize signal phasing and timing to reduce congestion. In addition to helping TxDOT prepare for the connected vehicle environment, the system reduced traffic queue lengths by 60 percent and wait times by as much as 50 percent where it was installed. TxDOT is now implementing this system at 30 intersections in the Houston area.
In Case You Missed Them: EDC-5 Orientation Webinars Available for Viewing
Watch recordings of the introductory webinars on the innovations in Every Day Counts round five (EDC-5), which begins in January 2019. Each 90-minute webinar provides an overview of an EDC-5 innovation and examples of how the innovation is being used in transportation programs.
About EDC
Every Day Counts, a State-based program of the Federal Highway Administration's Center for Accelerating Innovation, works with State, local, and private sector partners to encourage the adoption of proven technologies and innovations to shorten and enhance project delivery.