October 25, 2018
Innovation of the Month:
e-Construction and Partnering: A Vision for the Future
Through Every Day Counts, the Federal Highway Administration is encouraging transportation agencies to use e-Construction and partnering to improve efficiency in project management and delivery and create collaborative environments for project stakeholders.
The California Department of Transportation (Caltrans) developed an application that allows for electronic submittal and administration of contractor claims and is piloting it on 20 construction projects. Caltrans expects this process improvement to provide greater transparency, accountability, and efficiency of the claims process on projects. On two projects that use e-Construction tools, Caltrans is using web-based surveys and quarterly facilitated partnering meetings to evaluate communication successes and weaknesses.
The Idaho Transportation Department (ITD) institutionalized the use of project collaboration software for project-level electronic document management. ITD shared the software with the Local Highway Technical Assistance Council and local agencies and encouraged use of the software on Federal-aid projects. Traditionally, project documents were reviewed and approved by email, but ITD has started using a PDF viewer as a platform for plan reviews, comments, and edits.
The Pennsylvania Department of Transportation (PennDOT) has institutionalized its Project Collaboration Center, a customized software system that allows contractors to submit documents to PennDOT electronically for review and approval in a secure environment. The system includes file sharing, photo sharing, and construction-related training.
For information on e-Construction and partnering, contact Chris Schneider of the Federal Highway Administration Office of Infrastructure or Kathryn Weisner of the FHWA Resource Center.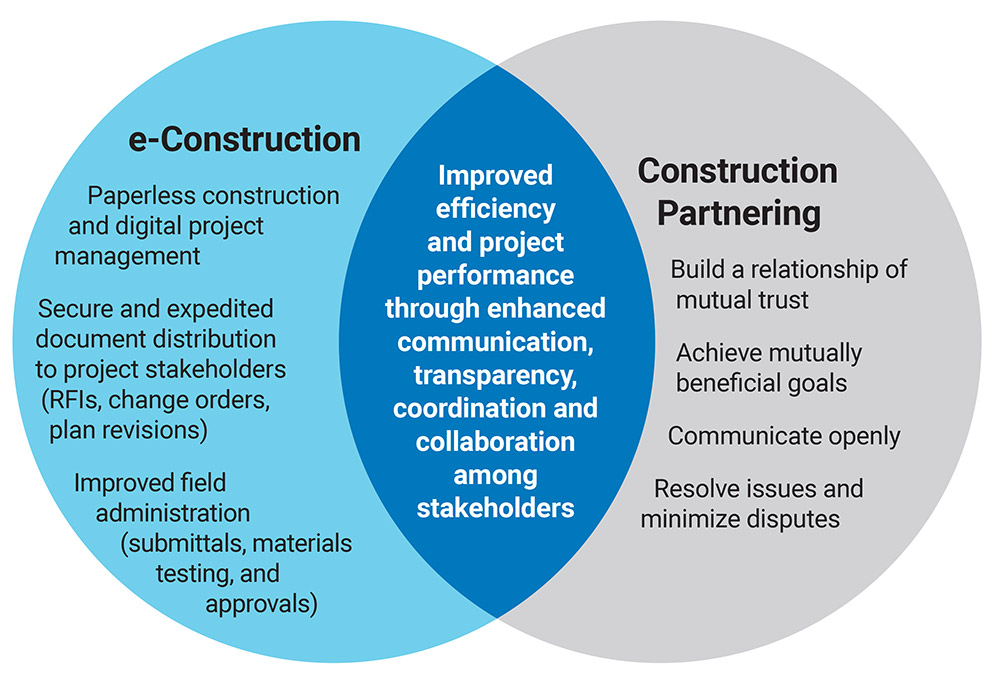 California Training Focuses on Getting Travelers to Transit Hubs
Caltrans used State Transportation Innovation Council Incentive funds to conduct training to help city, county, and public transportation agencies address the "first mile/last mile" (FLM) challenge of getting travelers between transit system hubs and their destinations. Caltrans collaborated with the Los Angeles County Metropolitan Transportation Authority, Southern California Association of Governments (SCAG), and FHWA to help agencies create FLM connections to increase transit ridership, an example of a community connections approach. The training focused on planning an FLM improvement program and deploying pedestrian safety countermeasures. Also discussed were best practices for temporary demonstrations, which enable communities to mark facilities such as bike lanes or curb extensions with spray paint and traffic cones and get user feedback on plans for permanent installations. Visit the SCAG website for the April 10, 2018, "Innovations in FLM Planning and Design" webinar and materials. For information, contact Anika Jesi of Caltrans.
Nevada Leverages Communications Systems for Vehicle-Based Data Sharing
Integrating mobile observations (IMO) deployment is enabling the Nevada Department of Transportation (NDOT) to harness information from its vehicle fleet on weather and road conditions. The data improve awareness of real-time road conditions, resulting in enhanced safety, reliability, and mobility during winter weather events. The cost and limitations of wireless communication services create challenges for mobile fleets in sending and receiving data, so NDOT implemented a hybrid approach to transmit data using radio, cellular, Wi-Fi, and dedicated short-range communications. Hybrid technologies reduce cost, leverage existing connections, and improve IMO data access to NDOT's Traffic Management Center. NDOT reports that benefits of using hybrid communications include enhanced systemwide awareness and performance monitoring that enable improved highway maintenance operations and equipment maintenance. For information, read the Nevada case study or contact Rod Schilling of NDOT. For IMO information, contact Gabriel Guevara of the FHWA Office of Operations.
About EDC
Every Day Counts, a State-based program of the Federal Highway Administration's Center for Accelerating Innovation, works with State, local, and private sector partners to encourage the adoption of proven technologies and innovations to shorten and enhance project delivery.