November 8, 2018
Innovation of the Month:
Collaborative Hydraulics: Advancing to the Next Generation of Engineering
Through collaborative hydraulics: advancing to the next generation of engineering (CHANGE), the Federal Highway Administration is encouraging wider use of modern hydraulic modeling tools that can lead to better design and more efficient delivery of projects involving waterways.
Over the past 2 years, the CHANGE deployment team conducted 40 courses for more than 900 participants on using two-dimensional (2D) modeling tools to design and build safer, more resilient transportation infrastructure. The team has delivered advanced online training for about 200 practitioners.
Through the 2D Hydraulic Modeling User's Forum, the team provides information and technical support on using modern hydraulic modeling tools. The forum meets bimonthly to discuss best practices, tips, and training opportunities. Each session includes presentations from State transportation departments on their experiences using the technology. More than 500 members participate in the live webinars or catch up on the information on recordings of past webinars.
To join the forum, contact Scott Hogan of the FHWA Resource Center.
View on-demand videos on collaborative hydraulics, part of the Center for Accelerating Innovation's webinar library that allows practitioners to learn about Every Day Counts innovations at their own pace.
See the Federal Highway Administration's hydraulic engineering web page for guidance, software, and training information.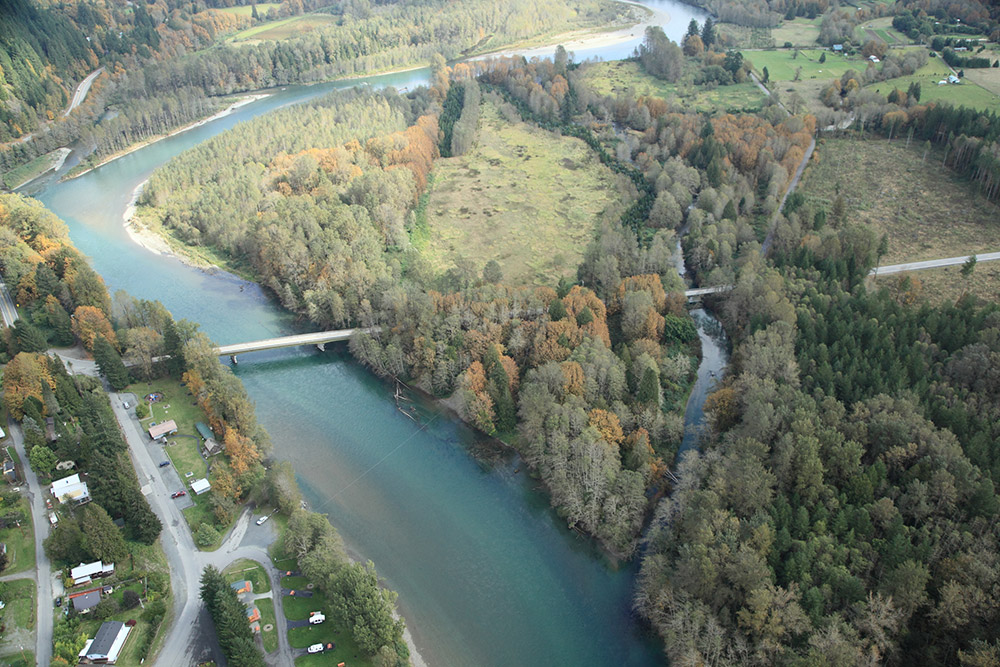 Alaska Assesses Ground-Penetrating Radar to Map Asphalt Compaction
The Alaska Department of Transportation and Public Facilities (DOT&PF) is using State Transportation Innovation Council (STIC) Incentive funds to assess ground-penetrating radar (GPR) as a potential technology for acceptance of asphalt paving compaction. Recent refinements enable GPR equipment to accurately measure and map compaction of freshly placed asphalt right behind the paving equipment. That means defects that could lead to development of potholes can be identified and fixed during the paving process, enhancing project quality and pavement life. Better quality pavements can improve ride quality for travelers and reduce highway maintenance costs. The agency demonstrated the GPR technology at the June meeting of the Alaska STIC, providing attendees with hands-on experience using the equipment. If practicable, the agency will develop and implement a performance specification based on full-coverage density data collected by GPR. For information, contact Rich Giessel of Alaska DOT&PF.
Handbook Outlines Community Connections Strategies
FHWA published a "Community Connections Innovations Handbook" as a resource to help transportation practitioners develop inclusive, interconnected transportation systems. The handbook features analytical tools, public involvement strategies, planning and design techniques, and operational improvements to implement community connections strategies in transportation planning, project development, and design processes. The handbook includes case studies that highlight projects in urban, suburban, and rural communities where community connections considerations have been applied. For information, contact Corbin Davis of the FHWA Office of Planning, Environment, and Realty.
See the Latest Issue of Innovator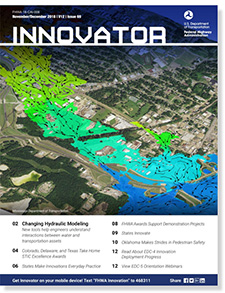 Illustration: November/December Innovator cover
Read the November/December issue of the Innovator newsletter to learn how new hydraulic modeling tools are helping transportation practitioners better understand the complex interactions between transportation assets and coastal or river environments. Also, read about the 2018 STIC Excellence Award winners in Colorado, Delaware, and Texas and the projects in nine States that will use Accelerated Innovation Deployment Demonstration funds to implement innovative solutions.
About EDC
Every Day Counts, a State-based program of the Federal Highway Administration's Center for Accelerating Innovation, works with State, local, and private sector partners to encourage the adoption of proven technologies and innovations to shorten and enhance project delivery.