February 28, 2019
Innovation of the Month:
Weather-Responsive Management Strategies
The city of West Des Moines, IA, is among the local agencies using weather-responsive management strategies to enhance traffic and maintenance management, including integrating mobile observations technology to collect weather, road, and vehicle data.
West Des Moines uses fleet vehicles equipped with road weather sensors to gather data such as road friction, pavement and air temperatures, and snow and ice depth, as well as cameras to record road conditions. This enables the city to monitor road conditions and adjust traffic signals based on traffic incidents or slowdowns.
The city also uses automated vehicle location (AVL) technology for deicer chemical management. Tying its AVL system into its plows and spreader controllers allowed the city to document the amount of material spread in real time and develop strategies to help operators apply chemicals more efficiently. This led to a 30 percent reduction in deicer chemical use while maintaining the same level of service on roads, saving about $150,000 a year.
Read the "West Des Moines: A City's Approach to Vehicle-Based Technologies" case study.
Visit the Federal Highway Administration's Road Weather Management web page for best practices, publications, and training.
Contact Roemer Alfelor of the FHWA Office of Operations for information and technical assistance.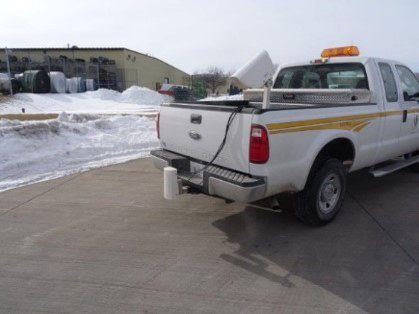 FHWA Announces Accelerating Market Readiness Program
The FHWA Center for Accelerating Innovation announces the addition of the Accelerating Market Readiness (AMR) program to its roster of programs that support successful technology and innovation deployment. The AMR program will assist in transitioning innovations from research to practice. Up to $3 million in funding will be available to conduct activities such as field assessments of innovations emerging from the research process and reporting on how the innovations performed in a real-world setting. FHWA is now accepting applications through fbo.gov from the public and private sector. Keep reading EDC News for information on an upcoming webinar on the program.
Alaska Uses STIC Incentive Funds to Standardize Environmental Procedures
State Transportation Innovation Council Incentive funds helped the Alaska Department of Transportation and Public Facilities (DOT&PF) develop online training for environmental staff on the Alaska DOT&PF Environmental Procedures Manual. The manual outlines processes for implementing the National Environmental Policy Act (NEPA) Assignment program, under which Alaska DOT&PF assumes responsibility for most environmental reviews on federally funded highway projects. Alaska DOT&PF developed the training to support its efforts to implement quality environmental documentation and NEPA Assignment as standard practices to streamline project delivery. For information, contact Ben White of Alaska DOT&PF.
Rhode Island Goes Digital for Interchange Project
With e-Construction technology, the Rhode Island Department of Transportation (RIDOT) is saving time and enhancing partnering on the Route 6/10 interchange reconstruction project in Providence, the largest design-build project in agency history. RIDOT is using an electronic plan (e-plan) system for document management to handle the high volume of documents associated with design-build projects. The e-plan system provides a collaborative environment that enables the project team to access and comment on documents concurrently. As a result, RIDOT expects to reduce the time spent on design reviews from months to weeks and receive resubmittals from the design-build team in days. For information, contact Deirdre Paiva of RIDOT or Anthony Palombo of the FHWA Rhode Island Division.
About EDC
Every Day Counts, a State-based program of the Federal Highway Administration's Center for Accelerating Innovation, works with State, local, and private sector partners to encourage the adoption of proven technologies and innovations to shorten and enhance project delivery.