May 30, 2019
Seeking 2019 STIC Excellence Award Nominations
Has your State Transportation Innovation Council (STIC) made a significant impact toward fostering a strong culture for innovation? If yes, consider nominating your STIC for the STIC Excellence Award, sponsored by the Federal Highway Administration's Center for Accelerating Innovation and the American Association of State Highway and Transportation Officials.
This award recognizes STICs that have brought together all stakeholders to promote a culture of innovation statewide. Nominations for 2019's Award are due to FHWA by July 1, 2019. Take this opportunity to nominate your STIC and share examples of how it is making a difference and the results of these efforts.
Past awardees have been recognized for a variety of efforts and initiatives, representing agencies from across the nation that put innovation at the forefront. Take a moment and read the stories of a few of our past winners.
In 2018, the Delaware STIC was recognized for its collaboration with the Delaware Department of Transportation (DelDOT) on an Innovation Fair that showcased nearly 40 innovations agency staff implemented to improve safety and efficiency, cut costs, and save time. In addition, DelDOT, the Delaware Department of Natural Resources and Environmental Control, and the Government Information Center partnered with Open Data Delaware and TechImpact on the 2018 Open Data Challenge. Through the challenge, teams used transportation, environmental, and recreational datasets to develop apps, including one to make transportation more accessible for persons with disabilities.
The Wisconsin STIC was recognized in 2017 for creating a strategy that enabled the State to deploy more than 40 Every Day Counts innovations, seven second Strategic Highway Research Program solutions, and many other innovations. Local Innovation Teams included practitioners who apply innovations on projects and propose ideas. The State's multidisciplinary Innovation Review Committee collaborated on innovations and identified paths for rapid deployment. The State also adopted an innovative process to implement innovations, the "five steps to innovation bliss."
Please visit our website to learn more about past STIC Excellence Award winners. For more information on this award or on the STIC program, contact Sara Lowry of CAI.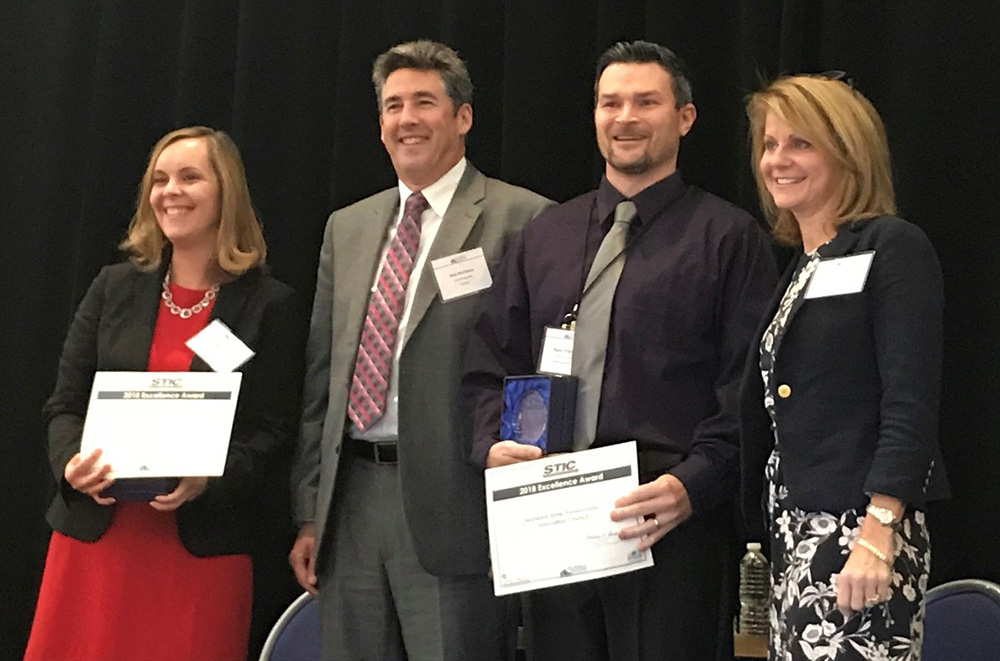 States significantly advance EDC-4 deployments
States achieved 82% of their EDC-4 goals to reach demonstration, assessment or institutionalized implementation of featured innovations. Learn which EDC-4 innovations your State and others across the country advanced and read deployment highlights for each innovation. The EDC-4 Final Report summarizes the final deployment status of the 11 innovations in round four of EDC.
To learn more about EDC, visit the EDC website or contact Julie Zirlin, EDC Initiative program coordinator.
Tennessee STEP-s Up To Protect Pedestrians
The Tennessee Department of Transportation (TDOT) finalized new multimodal access design guidelines and a Multimodal Project Scoping Manual that includes guidance on pedestrian safety countermeasures. TDOT also organized several workshops on applying these new design and project resources.
In Nashville, TDOT installed its first temporary pedestrian refuge island at an uncontrolled crossing with a high frequency of serious injury and fatal pedestrian crashes. Walk Bike Nashville collaborated with TDOT to monitor the site and reported that no pedestrian fatalities occurred after the countermeasure was installed in December 2017, compared to six in the six previous years.
If you would like to learn how your agency can improve pedestrian safety with STEP, contact Becky Crowe with FHWA's Office of Safety or Peter Eun with the FHWA Resource Center.
About EDC
Every Day Counts, a State-based program of the Federal Highway Administration's Center for Accelerating Innovation, works with State, local, and private sector partners to encourage the adoption of proven technologies and innovations to shorten and enhance project delivery.